Old school leadership is you being in control and "micro-managing" the people. New school leadership is empowering the team to be in control and leading the people.
How do you lead your team? It's a difficult question to answer because there are so many ways to lead a team. When you were given the position of manager you will have been given a set of objectives, and a team to help you complete those objectives.
How you manage or lead the team is your decision. It's all entirely up to you. However, remember the position is not most important, who you are is. It's also important to make the position your own, but not as important as how you make the position your own.
1. Its Not What You Are, It's Who You Are
It's up to you if you get along with the team or not, and if they follow you because they want to or because they have to.
We've already talked about climbing the leadership ladder, how you lead your team and that your style of leadership is your decision. Please remember, your leadership style will either push you up the ladder at a fast pace, or will pull you back down the ladder.
It's all about your character and who you are as a person. What you value and how you feel on the inside will ultimately be the key to determining your leadership style.
During my time in Scotland when I was hired as an engineering production manager, the hiring manager was very impressed with my interview. He was so impressed, he even told the whole leadership team that I was amazing.
Apparently I was going to change lots of things, make improvements, and that they should be on their toes for my arrival.
Talk about pressure.
I had only been a project manager previously, but I did have a lot of determination to become a great leader. I also told them that I wanted to make a huge difference.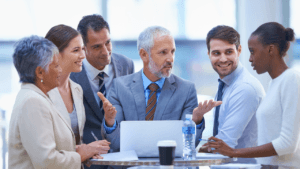 The person who hired me would be my line manager, and he had 30 years of management experience. I hardly had any. So I was very surprised that he thought I could change things. Especially things that he previously hadn't been able to change in his 10 years as engineering depot manager.
2. Building Relationships
Although I found his evaluation of me surprising following just one interview, I saw it as a challenge, and was one I wanted to grab with both hands. At that time my management and leadership experience wasn't great, but I did know how to build relationships.
I was also studying how to build trust, and how to influence people. It didn't matter if the team reported to me or not. People are people and we were all one team.
My first task was to improve the 'in process' and 'depot checks' within the engineering production management team. The goal for this improvement was to get the managers out of the office, and be more visible around the depot.
I felt this was a priority to improve because there is only one way we can bond with people, and build relationships. That is to actually be visible, and be there for the team. If we did this then we would show them that we cared.
The more visible we were, the more opportunities we had to talk to the team. We would also find out where and how we could help them.
For many years, the depot teams were complaining that they didn't see their managers enough. They didn't feel like they were cared for. It was the easy option for the manager on shift to stay in the office, close the door, and shut themselves off from the rest of the depot.
When actually they should be doing the total opposite. As I started work to improve the processes that would enable us to become more visible, the other managers didn't like it all. The reason being is they would have to do a lot more walking around and engaging with the teams.
They didn't like putting in the effort. They had been set in their ways for all this time, and didn't want someone new like me coming in and changing it.
Actually, the engineering production managers were not looking forward to me starting because of that very reason. They were told that I was going to be changing lots of things, and this made them very upset.
So, when I made a quick start on improving the visibility of the team, they kind of retaliated and would send me messages trying to put me off.
3. Being Present for Your People
However, in the end they did understand that they needed to be more visible with the teams and around the depot. So after a few weeks they came around, and agreed with the improvement I wanted to make.
How I went about trying to make this improvement for the engineering production managers was to lead by example. I didn't have the buy-in from them, or even my line manager when I told them about the changes I wanted to make.
So, I had to prove that this change would work by going through it myself, and validating the process for them. I did this by applying the principles that I am sharing with you in my articles. There was no time for me to plan anything, I had make this happen and make it happen quickly.
When I first started, I shadowed 3 of the engineering production managers for about three weeks. I did this so I knew my way around the depot and where everything was. When I was fully up to speed I began working on my first task.
What I needed to do first was to start being more visible myself, more accessible, and more engaging with the depot teams. I wanted to get to know them, and for them to get to know me. Most of all, I shared with them the leadership principles that I had been studying and applying.
I did this because I wanted to show the teams how we could accomplish amazing things together. The teams had never had this kind of engagement with the engineering production managers before. So this was brand new for all.
When my line manager saw me doing this he didn't like it, and thought I was working on the wrong things. All he was interested in was me changing things so that the performance of the trains would improve, and how we can get the trains out of the depot into service on time.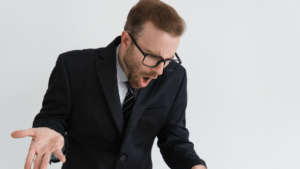 He wasn't thinking about the teams or the people at all. His style of leadership was fuelled by his ego, and he wanted us to know that he was the boss. He told me and the team that I was wasting time trying to build relationships, and changing processes that would make us more visible.
The problem was, he needed to be more visible more than anyone. But, he didn't know that, and he certainly didn't think he needed to.
4. Being The Best You Can Be
He was the boss and he had to be in control, and basically micro manage us. My goal was to try to empower the teams and assist them rather than tell them what to do. My line manager loved to talk over everyone, not listen and then give out orders.
I thought it was best to ask questions and then listen rather than do all the talking. It was my time as an engineering production manager where I really learned what it was to be a highly effective leader. I learned what I needed to do to become one, and become the best person I could be.
I also learned that even though the boss brought me in to change things in his depot, underneath he actually didn't want anything to change. Whenever I or any other member of the team recommended new changes, he totally dismissed them and rolled his eyes.
He was a control freak, and that is exactly what a manager does, take control. Leaders empower the team to be in control so that they can achieve a lot more.
I was there to make a difference and have a positive influence on the team that I was leading. I was not there to manage them, to control them, or give out orders. So, I ignored my line manager and continued to build on my relationships.
I continued to get out of the office and talk to the people to see where I could help. My line manager's influence on the team was getting weaker, and after a while he was replaced by someone else. I don't think that had anything to do with what I was doing, but it was a good change in the end.
Managers who pride themselves on ego and being in control of everything are not followed because their team wants to. They are followed because they have to.
Leaders who pride themselves on building relationships, and empowering the team are followed because their team wants to. That is when you know if you get along with your team or not.
Do you want to manage or lead? It's your choice.
I welcome hearing how this post has influenced the way you think, the way you lead, or the results you have achieved because of what you've learned in it. Please feel free to share your thoughts with me by commenting below.
Check out my other articles by Clicking HERE
All the best,