If you lead your team with confidence then you will get followers. If you lead your team with arrogance then you will get nothing.
When I was an engineer working in Liverpool with their train operating company, I was good at innovating new modifications to improve the performance of the trains. This was noticed by my line manager and the other engineering managers in the depot.
So, after a while I was promoted to project manager, so I could make my innovations my day job. Most organisations around the world do the same, they see something good in someone and they promote them. If the newly promoted person can continue that good work then they start to stand out and become stars.
1. Do You Want To Make A Difference?
As you are reading my articles, I'm pretty sure that you have either been promoted or are looking to be promoted in your organisation. I am also pretty sure that you are already a star, or are a rising star. I am pretty sure about this because you are reading this and my other articles, and leaders are readers.
During my time working as an engineer, it's amazing how many people said that they "Don't want to become a manager or a leader." But then a year later they are either supervisors, managers or even higher. I was one of those people too, but only so I wouldn't get teased by the other engineers.
I believe that in all the industries throughout the world there are A LOT of people who WANT TO MAKE A DIFFERENCE, but they keep quiet about it. The hunger to become more, to have more and to do more becomes obvious in some people. Especially when you start talking about the future and what their dreams are.
I kept quiet about what I wanted to do in the future, because I would get teased by my team mates. Unfortunately, it was that way in most of the organisations I worked with.
If people find out that you want to become the boss one day, then that is ammunition for them to ridicule you. However, it is an obstacle that you have to overcome, and you must stay on your leadership journey.
2. Do You Want To Become A Leader?
When you learn to become a leader within your team, as one of the team, and you can lead well, you are setting yourself up for the future. For example, if there is a vacancy for a leadership position, then you are most likely to get it. You have proved you can be a leader without a position of authority.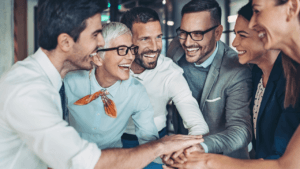 I have also seen people promoted who didn't want to be promoted because they were high performing. But, they were not necessarily the best leader, or wanted to be. When that happens it is usually the worst case scenario in an organisation.
Other times, managers are brought in from a different department or from the outside world. This can work, as long as whoever they bring in has the right development.
If they haven't, then hopefully the organisation they are joining will develop them. But most of the time, the new manager is usually promoted within the team. The reason for that is the hiring manager wants someone they know and can trust to "do the job".
It is essential that the person they promote MUST know HOW to do the job before they are promoted, not after. They person will require leadership training while he/she is still a member of the team.
Unfortunately in most organisations, leadership training for teams doesn't happen. Hence, another reason why I am writing these articles.
People who are not in leadership positions, are usually overlooked when it comes to leadership training. So, when they eventually become managers, they are underdeveloped. It is time for this to change, and as you are reading this article, you can help me make this change.
3. What Positive Change Can You Make?
Offices, factories, manufacturing plants and depot shop floors are where most of the people in our organisations work. Wouldn't it make sense to develop the people where the bulk of the work gets done?
If we don't develop these people, then the results for the organisation are going to be nowhere near its potential. The leaders of the organisation recognise this as a fact, but the managers are totally oblivious. It should be the other way around.
Most of the managers I have ever worked with want to make a difference, and achieve great results. But they just don't know how to lead.
They are confident people but it can come across as arrogant, because they don't know how to have humility. They need to realise that to be a highly effective leader, you need to be confident and not arrogant.
If you are one of the best members on the team, but you are not humble then that can sometimes be overlooked. The rest of the team might say "That's just the way he is."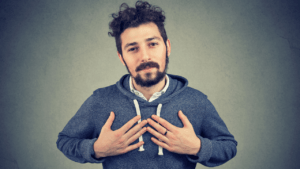 However, when you are the manager, then it is very important that you remain humble. If you are an arrogant boss, it will be plain to see to everyone, and will not be tolerated.
Arrogant people generally think they are better than everyone else. If you are a manager and you think you are better than the rest of the team, how do you think they will feel? Are they likely to follow you because they want to? Are they likely to build a relationship with you? Most importantly, are they likely to trust you?
The simple answer is: NO!
4. Do You Have Humility?
If your team don't want to follow you, build a relationship with you, or trust you, it is going to be extremely difficult for you. You will find it very tough to lead and influence the team.
To have humility is a decision that each of us can make, just like the decision to be arrogant. Don't miss the point, I am not saying that we need to think less of ourselves, we just have to think of ourselves less, and more of others. That is what leadership is all about.
What decision will you make? Are you a humble, confident person or an arrogant person? If you want to influence your team and others in the organisation, then you know what decision to make.
Highly effective leaders are servant leaders. They are confident, humble leaders and think of themselves less and more of others. Highly effective leaders go to work every day to serve their team.
Insecure leaders go to work every day to be served by their team. You know what type of leader has the most influence, so make sure you make the right decision. That is who you are!
Being a confident and humble leader is how highly effective leaders are able to take responsibility for their team, whether they perform well or not. Being an arrogant and insecure leader is when you start blaming your team for any poor results. What kind of leader are you?
I welcome hearing how this post has influenced the way you think, the way you lead, or the results you have achieved because of what you've learned in it. Please feel free to share your thoughts with me by commenting below.
Check out my other articles by Clicking HERE
All the best,