Managers bring in change to processes and things. Highly effective leaders influence how you behave and think about processes and things
Do you understand the difference between managing and leading? The behaviours of a manager, and the behaviours of a leader are very different. However, as a highly effective leader, you must learn the ability to behave like a manager, and behave like a leader at the right times for the right reasons.
If you can do this, then you and your team can achieve great results. Your team will also be inspired by you to keep going and keep achieving these great results. This all comes down to the action you take, and what you say to your people.
If you don't yet understand the differences between leadership and management, then don't worry, you will. You will also be able to help others see the differences too by using real life examples, just like I am going to do.
1. Leadership vs. Management In Real Life
When I took the role as performance manager at Siemens in 2015, it was my first leadership role when the team reported to me, and me only. This was following my role as engineering production manager, where I was part of a five man shift pattern of other engineering production managers.
Anyway, after the first few weeks, and learning lots about the trains we were working on, and how they performed, I came up with a few ideas…all on my own. I hadn't discussed these ideas with my team, or with any of the other teams. My thinking at the time was, I am the boss, I need to come up with the ideas to improve train performance.
So, I go to my new-ish team and tell them my ideas, and that I want to implement these ideas as quick as possible. It was just a one way conversation, me talking to the team. I didn't encourage or allow for any discussion (not on purpose), I just talked, and talked.
Next, after telling my team the idea, I then told them what I wanted to do to implement my new ideas. I directed exactly what to do and when, and when I expected them to have their tasks completed. Following completion of the tasks, I wanted them to report back to me to assure me that things were done.
When I think about it now, it frustrates me that I allowed myself to behave in such a way, and I was completely blind to it. I was so engulfed in my own "brilliant" ideas that I wouldn't allow anybody else to contribute. The fact that I was doing this sub-consciously makes it worse.
You can imagine how the team felt. They started to distrust me, probably talked about me in a negative way to others. Anyway, let's just say we got off on the wrong foot, and it was all because of me. I am happy to admit that.
The ideas that I came up with didn't work anyway, so it showed me that I cannot do things on my own. I bet if I had involved the team from the beginning, the ideas would have been ten times better, and would have worked.
The example I have just described was not me leading my team. What I was doing was managing my team, and treating my people like they were things, processes, and even worse…numbers. You cannot manage people, you can only lead people.
2. Managing People Instead Of Leading People
However, the majority of "leaders" throughout the world manage their people, and do not lead them. Telling people what to do, by when, and to report back is micro-management. Micro Managers are very insecure, and weak leaders.
They just don't know that that is what they are. Micro managers have huge ego's (as I had developed), and behave in this way because of their insecurities and weaknesses.
The way I should have behaved with my newish team was like a leader. I should have brought my team together, and showed them my idea, and then welcomed their opinions, suggestions, recommendations, criticism, and any feedback they wanted to give me.
I should have listened a lot more than I talked. I should have put them before myself. I should have known that leadership is all about my people, not all about me. We should have made the decision on what ideas to implement together, and then worked out between ourselves who did what. Not me telling what to do and by when.
3. Leadership Starts With You, But Is Not About You
Highly effective leaders happily share their knowledge and ideas. They want their ideas to work, and they know that they cannot make their ideas work on their own. They need a team of people that they care about, trust, and have a strong relationship with.
They need to have these things so that their team will buy-in to them and their ideas. Highly effective leaders involve their people right from the start, not at the end, or in the middle. That is how a highly effective leader makes things happen.
Highly effective leaders influence their people to think differently. They influence their people to think a lot deeper than they normally would so that they can think for themselves, and come up with their own ideas and solutions.
When this happens, they are opening the door for their people to take ownership and accept responsibility for their own actions and ideas. Allowing your team to provide solutions will increase your influence.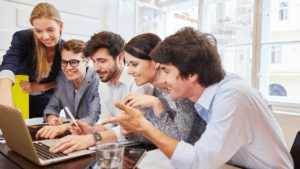 4. The Foundation Of Leadership
Influence is the foundation of leadership, and when you influence your team, they will take action on your influence. They do this because they feel respected by you, and in turn they respect you back. Leading and not managing is the only way you can demonstrate respect for your people.
When we are managing, we are improving our competency. When we are leading, we are improving our character. When we manage, we manage things and processes.
When we lead, we are increasing our influence with our people. We cannot increase our influence with things and processes because they have no feelings. We cannot manage people because they do have feelings.
Even through our people are being paid for the job they do, we must treat them like they have volunteered, and are doing this job out of the goodness of their heart.
That is how we want them to feel. We want our people to feel at the end of the day, and think to themselves, "I would have done that job today even if I didn't get paid for it." If we can get our teams to think like that, then that is true leadership.
Leadership is about people first, and processes second. It can never be the other way around. If it is, then that is management, not leadership.
When it comes to leadership, you must do what you say you are going to do. You cannot just talk the talk, you must walk the walk. The best way to do that is to lead by example, lead from the front and show your people the way.
If you do not, then you are not leading. Would you rather lead your people or would you rather manage your people? Your choice.
You want to make your leadership so good, that nobody even knows you are leading. Lead so well that your people feel that being a great team is the norm
I welcome hearing how this post has influenced the way you think, the way you lead, or the results you have achieved because of what you've learned in it. Please feel free to share your thoughts with me by commenting below.
Check out my other articles by Clicking HERE
All the best,