To lead without authority requires a person to have a lot of influence. When it comes to leadership, there is nothing more important than influence.
Job titles and leadership positions do not matter. The more people who realise that, the more people we will have with an increased influence.
A lot of people, and actually a lot of managers think that to be a leader, you must have authority. That couldn't be further from the truth. To be a highly effective leader, you MUST have influence over your people, whether they are your team, or you are leading them in a project.
Authority is not required to be a true highly effective leader.
Have you ever heard your line manager or team leader say things like, "You guys aren't listening to me, and you don't do what I tell you." Or, "The team keeps missing targets." Or, "They are not my responsibility, I can't tell them what to do"?
I bet you have. You see, what your line manager or team leader is really saying to you or the team is, "I have absolutely no influence over you and the team. How do I increase my influence with you?"
1. How Do You Increase Your Influence
What I teach and the message I try to put across to all the people I work with is, leadership is not a job title or a senior position within your organisation. Leadership is influence, and I help others to try and increase their influence. This article and my website is a resource that will teach you how to increase your influence.
When I worked closely with teams, whether I was their formal leader or not, I knew how to increase my influence with them. I tried to build a strong relationship with each individual and add value to them every day. By doing that I was helping them to develop and I was giving up my time to do that.
Some of the formal leaders who I worked with had zero influence because they were not willing to build those strong, meaningful relationships with their people. They made the excuse of not having the time. Really poor excuse in my opinion.
It is the leader's role to inspire their people and help them to make things happen. With a lot of the formal leaders I worked with, they didn't believe that it was their role to make things happen with their people or their team.
They had the attitude of putting their feet up and letting the team make things happen without any of the formal leader's input. They had no influence on their people anyway, so even if they wanted to make things happen, it would be very difficult for them.
I on the other hand knew how to make things happen with the team, and we made things happen together because we had strong relationships and we had influence with each other.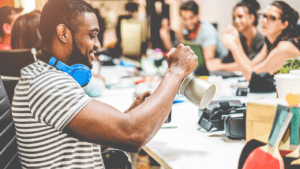 During the time I worked in Scotland as an engineering production manager, when on shift, I worked with different teams who didn't all report in to me. So for the engineering production team to work well, I needed to have a strong, authentic influence with them.
2. Influencing People Outside Your Charge
This was difficult because the engineers who didn't report into me had their own line managers, and they didn't like me or the other production managers having an influence. There was a particular line manager who raised an issue with me when I tried to implement a new idea that would involve his team.
This line manager led the heavy maintenance team, so what they did was replace the heavier equipment on the trains when they needed overhauling. For example, motors and wheels. Anyway, the idea I wanted to help their team with was process and quality checking.
We were getting complaints from senior leaders that the trains were not in as good a state as they had been previously. This was a big deal because we didn't want to get any customer complaints that could hurt our reputation.
The heavy maintenance manager did not like my idea to improve our processes and quality, in fact he wasn't bought in to any new ideas. He was a very old school kind of person.
When he raised the issue of not liking the quality and process checking idea, he complained to me that it would take too much time for his team to carry out further checks on quality after they had completed their work.
Therefore the trains would not get out on time and cause delays. He was frightened that his boss (who was also my boss) would give him a "kicking" if his team delayed the trains.
I suggested to him, "What if we used a couple of members from another team to work alongside your team, and check the process and quality of work while they were still working?" Hi reply to me was "That wouldn't work because it would slow my team down, and because the other teams don't listen to me, it wouldn't work anyway."
This was just an excuse not to make this change, and I had heard the same excuse on a lot of other ideas I wanted to implement.
Basically, this heavy maintenance manager had no influence within his own team, or outside of his team. He was not a leader, and did not know how to build relationships with anyone. All he could do was make excuses.
I asked him, "Before we totally diminish this idea completely, why don't we give it a trial run, and let a couple of other team members work alongside your team?" He immediately said no, but I kept on at him for about a week.
I was explaining the benefits and how by doing this we could improve the quality of our trains. He gave in and agreed to do it, but he said, "If this goes wrong, I am blaming you." Not very inspiring.
3. How To Make Things Happen
When I went to his team and discussed the idea with them, they were more than happy to trial it. I had a lot of influence with his team because I built relationships with every one of them, and tried to help them as best I could.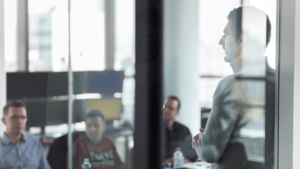 So, we did the trial for about a month and it worked really well. The teams were great and worked really well together. In the end, we implemented the quality and process checks permanently. The quality of the trains improved and there were hardly any delays either.
The reason the heavy maintenance manager was refusing to do this trial was because he feared change, but also he had no influence with his team. He thought that if he went to his team and asked them to do the trial, they would refuse.
Which was right, they would have. But, because I asked them, they did it. Why is that? He didn't have any influence, and I did. He didn't have a relationship with his team, and I did.
He had the authority over his team, and I had the influence. Influence wins every time.
4. Working On your Character
To increase your influence with people, you must work on your character. Character is who we are, not what we do, or what we know. It is your competency that is what you know.
Working on your character every day will enable you to increase your influence with everyone who comes into contact with you. Whether that be your team, colleagues, line managers, senior leaders, friends, or family.
When working on your own character, you must also help the team you lead work on, and improve their character too. This will help you to create a leadership culture and environment within your team, and also outside of your team.
This happens when your team members increase their influence throughout the organisation. The leadership culture can start with you, but then organically increase through your team.
To be a highly effective leader, you must lead by example through character based leadership. You must teach those leadership principles that you display to your team. By developing yours and your team's leadership, you are developing your character.
By developing your character you are increasing your influence. By increasing your influence you are increasing the impact that you are making. Help your team to increase their impact, and your organisation will increase their impact too.
Leadership is like going the gym. To get into shape you must workout. To become a highly effective leader you must work on your character, and add value to others…every day.
People say you are either a natural born leader, or you are not. WRONG! 
I welcome hearing how this post has influenced the way you think, the way you lead, or the results you have achieved because of what you've learned in it. Please feel free to share your thoughts with me by commenting below.
Check out my other articles by Clicking HERE
All the best,