The leadership principles that we are discussing were not "thought up" or designed by me, or any other person. They are laws of the human condition and our ability to build relationships with each other. They are both part of our subconscious and our consciousness.
Principles such as honesty, integrity and trust can move humans toward positivity or negativity. Using these principles when we interact as humans is the basis for listening, understanding and then responding.
I talk a lot about influence, because that is exactly what leadership is – INFLUENCE. There are many ways to influence another person, both positively and negatively. I have found that one of my favourite ways to influence another person, is for them to influence me first.
The best leaders I have ever worked with or been influenced by, make the decision to be influenced first before trying to influence the other person.
1. Why Be Influenced First?
The reason highly effective leaders like to be influenced first, is because they want to understand the other person. They don't talk first, they don't "but in" in the middle of the conversation, and they don't tell them what they should or shouldn't be doing…….They listen first, understand second and speak third.
When you are trying hard to see something, we sometimes strain our eyes so we can see it the best way we can. For example, seeing emotion on a person's face and understanding how they feel.
When listening to a person, it is rare that we strain our ears to hear their words and understand their emotions and how they are feeling. This is something we should get better at.
When you have a one to one with your boss, do you feel important? Do you feel cared for? Do you feel listened to? If the answer is yes to all, then they are behaving like a true leader and letting you talk while they listen and understand you.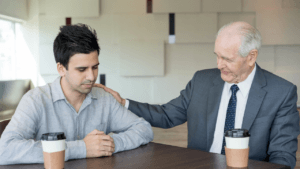 Or, does your boss control the one to one? Do they do most of the talking? Do they make you feel like you're always being criticised? Do they seem like they don't care? Again, if the answer is yes to all, then they are behaving like a boss, not a leader.
They are not listening to you at all and the one to one is all about them and not you. They don't understand you because they are not listening. I have had many one to one's like this in the past, and I am pretty sure you have too. It is not a nice feeling.
2. Putting Others Before Ourselves
In the book "Leader's Eat Last" by Simon Sinek, he talks about this exact concept of leader's putting their team and others first. He talks about his experience of spending time with the US Marines, and that listening, understanding and being influenced first is most important to the leaders.
When your friends or family talk to you, do you listen or talk over them? If you talk over them, they will feel undervalued. If you listen and understand them first then they will feel important, and appreciate that you have taken that time. What people say to you is serious and it matters, treat them that way.
When it comes to you then listening to your boss; if you have an issue, either at work or at home and your boss has listened to you first, understood what you are telling them, and let you finish what you want to say, then you are more likely to listen to your boss when it is their time to speak.
Whatever their opinion or advice is on what you have just told them, you are more likely to respect, take on board, and take action on. This is the relationship between a highly effective leader and their team members.
However, if you want to discuss an issue with your boss, and they take over the conversation within the first few minutes, and want you to understand their point of view first, then you are more likely to not listen because you are concentrating on getting your point of view across.
I have had many conversations like this with previous bosses in the past, and again it doesn't make you feel good. They haven't listened to you, and by consequence you haven't listened to them either.
For a leader or a boss, this is very risky because it puts them in a position of not being respected. The team will in fact resent their boss because he/she doesn't listen and gives the impression that they don't care.
If your boss isn't listening to you, and they don't want to be influenced by you, is there anything you can do? Yes there is. They don't realise that they aren't influencing you either. Remember, LEADERSHIP IS INFLUENCE.
3. What Can You Do?
YOU BECOME THE LEADER, WHEN YOU ARE NOT THE LEADER. Change position with your boss and lead them instead of them leading you. We all want to increase our influence, especially with our boss, and this is an excellent way of doing that.
This is why you can be a leader in your current role, you do not need to be a supervisor or a manager to be a leader. Although, you do need to be a supervisor or a manager to be a boss. But, we don't want to be the boss, we want to be the leader.
To be the leader of your boss, you just need to apply the leadership principles you are learning. You can apply them with your team mates, the outside organisation, at home with your friends and family. Now, all you need to do is apply these principles in exactly the same way with your boss.
So, you're now the leader, and your boss isn't listening to you, what should you do? A highly effective leader would LISTEN FIRST, UNDERSTAND SECOND, AND SPEAK THIRD. A highly effective leader would listen to their boss and understand what it is that they are saying to them.
If you were to do that by being the leader, then when it is your time to speak, your boss is a lot more likely to listen to you, and take on board what you have said.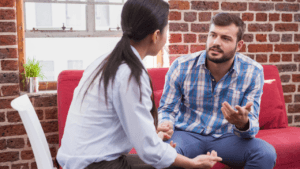 Then following that, you would feel like you have been listened to, feel cared for, and feel important to your boss.
As a team member learning to be a leader within their own team and organisation, this is one of the best leadership principles to try and master; listen first, understand second, and speak third.
By learning this leadership principle myself and trying to master it every day of my life, it really has improved my leadership and my life, both as an engineer, a manager and as a human being.
To be a leader within your team and your organisation, then building relationships with your team mates, your line manager and also their line manager is key.
When building on these relationships, ensure that you listen first, understand second, and speak third. In fact, use this principle with everybody you meet and want to build a relationship with, even beyond your career.
As humans we love to feel important, be the centre of attention and our own self-interest. This is where we get our motivation from to do something. However, when we listen to someone else then we have to give up our love of feeling important and we have to make the other person the centre of attention.
As a leader it is a requirement to put others before ourselves, and the more we do it, the better we become so keep practicing.
I welcome hearing how this post has influenced the way you think, the way you lead, or the results you have achieved because of what you've learned in it. Please feel free to share your thoughts with me by commenting below.
Check out my other articles by Clicking HERE
All the best,