When a leader provides his/her team with a compelling vision, goal, and purpose, their team will become followers.
A highly effective leader will live the vision, goal, and purpose every day from the front and set the example. Once the example is set, the followers will follow in exactly the same way through the leader's inspiration and motivation. This is what aligns the leader and the team.
When I was told that I would be moving into my first leadership position as engineering production manager, I was so excited. I felt that I was on the next step of climbing the ladder. I was excited to see what difference I could make in engineering.
1. Who Do You Put First As A Leader?
I was excited to make our trains better. I was excited to impress the senior leaders. It was all me, me, me, and what I could do to make things better.
I didn't think about what I could do to help others become better. I didn't understand that my new role was not about engineering anymore. It was about human beings. It was about the people I worked with, and the people who would be on my team.
On my first day in my new leadership position as an engineering production manager, I very quickly realised that most of the other people I worked with were not as excited as I was. They didn't share my optimism to make things better. They didn't like everyone on the team.
The team hadn't met me before, and already they didn't like me. They didn't like the other engineering leaders, and they certainly didn't like the senior leaders. Some members of the team didn't even like the place where they worked (this was when I was in Edinburgh, Scotland).
It was a rude awakening, and my optimism and enthusiasm very quickly dropped.
On that first day as an engineering production manager, I attended the morning meeting. This was led by the production manager on shift, and he would assign the work to the team for the day. As it was my first day, I was shadowing the production manager to learn "the ropes" and get familiar with how the engineering depot worked.
Anyway, the meeting started and before anything was said, one of the team members put his hand up to ask a question, his name was Tam. His question was "Who the F*** is he and what is he doing here?" He was pointing at me. When he said that, I froze.
I was so nervous, trembling and confused, I didn't know what to say. I hadn't been confronted like that since I was 16 during my apprenticeship.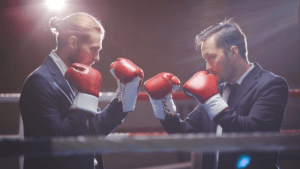 The production manager, introduced me as the new engineering production manager on shift. Then Tam asked me, "Have you been a manager before?" I said, "I have but I haven't had my own team before."
His reply was, "What makes you think you can come here from Liverpool and manage us then?" This wasn't going very well, and I had to do something.
2. Addressing The Situation
I asked Tam to come with me for a quiet chat. When we were alone, I said to him "I know what you're trying to do. You're trying to embarrass me in front of your team because I'm the new manager. Well, it won't work with me. So, we can both start again on the right foot, and go to work, or we can have a much deeper conversation about this and I can escalate to the senior leaders your behaviour….it's your choice." Fortunately he decided to start again with me, and we both made a clean slate of it.
I must admit, I could have probably handled the situation a lot better. But, it was this confrontation that really drove me to learn and study more about leadership.
After a few weeks of being in this new role, I learned that the production teams didn't really trust us as production managers. What was dis-heartening was that the other production managers knew it, but didn't really do anything to address it.
I wanted the team to trust me, and I wanted the team to like me. But, I knew I needed to be the one to build the trust with the team and not the other way around.
It was difficult because I started to build a relationship and trust with two members of the team, but as this was happening, I was actually creating distrust with other members of the team.
Trust is a "two way street", and we really only trust the people who are similar to us and share the same values. We all have different values. However, the one value that everybody shares is ourselves.
3. Being Clear Of Your Intentions
So, how do you build trust with everyone on your team, who all share different values? You need to be very clear of your intentions with the team. You are the leader of the team, but you are also on the team's level, and are one of them.
Any successes that happen from your team, it will be the team that is responsible, not you. Your main intention and objective is to help each individual on the team to become better people, and also a better team.
Being intentional and deliberate with your team like this, is how the team will understand exactly what your intentions are. Be very clear on why you are doing what you are doing, or saying what you are saying. When you tell them the reason for your action, you are confirming what the team were already thinking.
Don't just do, or say something without a reason. Otherwise, the team will not understand why you are doing what you are doing, and will make assumptions about you, what you say, what you do, and why you're their leader. Most of the time these assumptions are negative.
The only way to avoid these negative thoughts by your team is to be very clear of your intentions. Always tell the truth with your team, and be open with them. What we as leaders need to come to terms with is, whenever we tell our teams our intentions, they don't believe us.
4. You Cannot Please Everybody All The Time
What they believe is their own interpretation of what we say. Most of the time it is the wrong interpretation. When you are reading this article, it is likely that you don't believe what I am saying either. This is a human fact, and something we all need to come to terms with. We do this without knowing we are doing it.
Do you agree with what I just said? If you do, then it is clear that you believe what I just told you. If you disagree, then you don't. You need to realise that what you have just told yourself you believe, wasn't actually what I really said.
It was your interpretation of what I just said. This is exactly the same when you talk to your team. They interpret what you said, and most of the time it is wrong.
To overcome this, you need to do exactly what you say you are going to do. The action you take needs to be right down the line of what you say. When you align your action exactly to what you say, this is what builds trust with your team.
Your team will then interpret what you initially told them in the right way. That is why we have phrases like "walk the talk." It means, do exactly what you say you are going to do. This will increase your influence as you build the trust up.
If you say one thing and then do another, then you are creating distrust, and your influence will decrease.
There are two ways you can be intentional. You can either be intentional to motivate your team, or you can be intentional to manipulate your team.
When you manipulate your team, it becomes an "us and them", toxic environment and culture within the team. When you motivate your team, it becomes an "us and us" or, "we", inspirational environment and culture.
When you are very clear of your intentions, you are providing your team with your compelling vision. They know what you want to achieve for the team, and why you want to achieve it. When you respect your team, they will trust you. When you trust your team, you value them. When you value your team, they will respect you.
Once the leader has been very clear of his/her intentions and what the vision is, the team will then take that vision as their own. They will live the vision, and protect it. The leader will do exactly the same.
I welcome hearing how this post has influenced the way you think, the way you lead, or the results you have achieved because of what you've learned in it. Please feel free to share your thoughts with me by commenting below.
Check out my other articles by Clicking HERE
All the best,