Listening to understand people is not easy because we all have the urge to respond and give advice or feedback. 
Believe me, listening to understand a person goes a really long way, especially if emotions and concerns are involved.
How do we understand what true connection with another person really is? First of all, to connect with one of our team members, we must do most of the listening, and they must do most of the talking. We listen with the intent to understand, not to respond.
That is what highly effective and servant leaders do. It's important not to give any opinions. So, we don't agree or disagree with what our team member is saying, we are just understanding.
If your team member is talking and they start to become emotional, which is highly unlikely, we must acknowledge that we are listening to them. They might be happy, sad, angry, fearful, or jealous.
Or, they might stop trusting a person. Either of those emotions should trigger us to react in a way that shows them we totally understand. We have taken on board what they are saying and feeling.
1. Building Trust
In my experience, to be able to show that you care, you will first have had to build trust. Then you must build a relationship with your team member. If you haven't, then this conversation will be very difficult, as I have found in the past.
It is very important that your team member feels safe to be expressing their emotions with you. They must be 100% certain that you "have their back".
Is your current boss first concerned with understanding you and the team before himself/herself? Or, is he/she more concerned that you and the team understand him/her first? Obviously, if it was a choice, you would prefer to have your boss put you and the team first and try to understand you.
That is what a highly effective leader would do. I have worked with so many bosses who have put themselves first. They made sure that we understand them before they understand us. It is not a nice feeling. Do you put yourself or your team first when it comes to understanding each other?
A highly effective leader will put the team first, so that he/she can be influenced first by the team. When they can do this, it is much easier for the leader to influence their team. That is what highly effective leaders totally understand. You should work on yourself to do the same.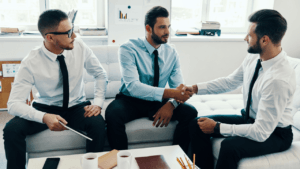 One time my line manager set up a meeting to understand how we were going to rectify the overspending on our project. Was his intention to really find out our ideas?
Was his intention to understand how we were? Was his intention to listen? No it was not. He told us what he wanted us to understand, and when we told him our thoughts, he didn't listen. So therefore, he didn't understand us.
He made assumptions of what was happening, and didn't bother to really ask us, and dig deeper to find the answers together. He basically behaved how an insecure leader would behave, only thinking of himself.
If he was a secure, highly effective leader then he would put us first. He would try to understand everything about what was happening. He would then help us come to solutions to try to resolve the situation.
At the end of the meeting, he assumed that we all understood him, because he asked if anybody had any questions. Nobody answered. This was usually the case with him because we knew that if we asked a question, he wouldn't be able to answer it anyway.
2. Do You REALLY Listen to your people?
If you are a leader and you don't listen to your team, then eventually your team won't say anything to you at all. That is exactly what happened in our meeting with our line manager. He didn't listen, so the team didn't answer his questions.
If our line manager tried his best to listen to understand what we had to say first, then there is no doubt that the team and I behave differently. We would have tried our best to answer his questions, and discuss our ideas so that he knew what to tell his boss.
Do you deliberately set up one to ones with each of your team members, so that you can listen to them and understand them? Does your boss do the same with you?
When I started my job as performance manager for Siemens in London, I only had a small team. But, I could tell that my predecessor did not listen to his team. He didn't have any one to ones with them, or understand what they were thinking.
So I made it my business that the first thing I would do was set up one to ones with each team member. I didn't want to just to get to know them. I wanted to understand how they were, and what they were thinking.
One team member did say to me "Tom, why are you having these chats with us, have we done something wrong already?" That almost knocked me off my chair. I said "you have done nothing wrong, I just want to get to know you."
He said, "I've never had a one to one where I don't get shouted at for doing something wrong." That was very sad to hear. I assured him that I wasn't there to shout or anything like that. I just wanted to listen to him and understand him.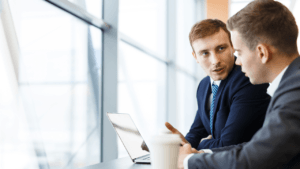 But, this proved to me that the managers before me did not put their teams first. They put themselves first. They wanted the best out of the teams, not the best for them. All in all, they did not connect with their teams whatsoever.
3. How Do You Connect With Your People?
The way the engineering department was set up at Siemens was; performance team, production team, safety team, leadership team, and admin.
I was the performance manager, and when I first walked in, it definitely felt like it was us against the rest. If we were going to achieve better results than before, then we needed to join up and become one team.
So, when I did my morning performance briefs, I invited everyone from engineering, not just my team. It took a while for everyone to start coming, but in the end they did. The point of this was to advise the whole engineering team how our depot was performing.
It was also a chance for me to give credit to the teams for when a job was done well. But, most of all, it was a chance for the engineers to share their thoughts with me and the other leaders.  This was a great opportunity to actively listen to what the teams had to say, so we could understand.
I told the other leaders that we were not allowed to talk or interrupt the teams. Otherwise, we wouldn't fully understand what they were saying. After a few weeks of doing this, we started to bond as a complete engineering team.
4. Strengthening Your Relationships
That is when the trust between all of us grew, and we began to build stronger relationships. All this happened because we as leaders joined together, the teams joined together, and we all listened to each other.
Previously, before I joined the company, the only reason the leaders had a morning brief was to deliver bad news. Or, it was to highlight a mistake that was made by one of the team. It was never to provide positive information, praise, or to listen to what the team had to say. It was just to communicate, not to connect.
Throughout my time in a leadership position, I have found that it was very important to do morning briefings. I liked to do them so we can talk and have a positive start to the day. Other managers didn't like to do it because they were lazy.
But, they would make excuses like; "that is a waste of my time," or "I don't have time" or "what benefit will that give me?" It was never about the team, it was always about them. That is a sign of an insecure leader who are only thinking of themselves.
In many organisations throughout the world, there are signs of insecure leaders and managers who don't care for their people. You and I need to change that, and help others to change it too. You can make that difference. You NEED to make that difference.
How are you going to take action to make that difference?
What do you hear and what do you listen to when you are communicating or connecting? Can you hear what isn't being talked about?
I welcome hearing how this post has influenced the way you think, the way you lead, or the results you have achieved because of what you've learned in it. Please feel free to share your thoughts with me by commenting below.
Check out my other articles by Clicking HERE
All the best,