Don't waste time trying to change what you can't control. You MUST change what you can control for the better.
As a manager, when you want to know what's happening, do you go straight to your team and ask questions? Or, do you speak to middle men? A highly effective leader goes straight to their team who are doing the work, and asks questions.
They do this so they can find out for themselves. They like to be visible to their team, and show that they care. By doing this, they continue to build trust with their team. because they are not stuck in the office talking to a deputy.
Highly effective leaders take the full responsibility for the team to achieve great results. They are not happy with speculating or assuming that things are happening. They need the facts, and the only place to find out the real facts is by going to the team, engaging, and asking questions.
1. Being Present And Willing For Your People
They may even get stuck in, and get their hands dirty. When I was an engineering production manager, I would love to do that, and mix in a little bit (not too much).
I believed that it showed the team I was willing to be there with them, and that I cared. I wasn't one for sitting at my desk, and reading through mountains of reports all day. Or, looking through the systems on my laptop.
A highly effective leader is one who gets results. A low performing leader is one who plans to get results. That is why you will never see a low performing leader walking around. They are never visible to their team, and they don't show that they care.
They would rather look through reports all day. Why do you think they would rather look at reports, than engage with their team? If the report is wrong, then they have an excuse for not achieving the desired results. It is also really easy to just sit behind the desk and pretend you're busy reading.
I want to discuss a story that will outline the difference between planning to get results (managing), and actually getting results (leading).
2. Planning Results vs. Getting Results
When I worked with the Liverpool train operating company, the first depot manager I worked with led his teams by report only. He would rather hold meetings with his immediate team of engineering supervisors in a conference room, than going down to the shop floor, and talking to the engineers.
He would demand that they all put a report together of what the issues were, and why the depot and the trains are not performing well. I had to attend some of these meetings, because it was me who had to put most of the reports together.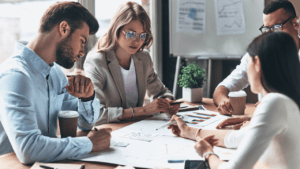 He asked me to come because if the reports were wrong then he could blame me, and he then had his excuse. For the engineering supervisors and himself, these meetings were a complete waste of their time.
They should have been spending their time walking around the shop floor, and speaking to the engineers who were in the trenches. The engineers had all the answers as to why things weren't going so well.
The depot manager was not my line manager, but he did have an influence. His teams and our team had to work very close together. At the end of these meetings, there would be a long list of actions for everyone that needed to be completed by the next meeting.
In reality, nobody would do their actions because they were not inspired to, and we didn't think they were necessary. So, when the next meetings came around, they just talked about the exact same thing as they did the previously. It was quite funny to watch.
3. Showing That You Care
Luckily for everyone, he was replaced by someone who was a highly effective leader. The very first day I met him, I could tell there was something different about him. He had a presence that the previous depot manager didn't have.
He talked to everyone, he went around the shop floors to talk to the engineers, and find out what was happening. He even came in on nightshifts to talk to the engineers so that he didn't miss anybody.
He accepted responsibility for the results of the depot, and wanted them to improve. He didn't want to plan to get results, he wanted to actually get them.
He made sure that everyone had the right equipment, and had the right safety equipment. If anything was old, he would authorise for it to be replaced with new. He even authorised for the offices to be upgraded, and painted because he thought they looked a bit old.
This was all in his first month. He wasn't one for reading lots of reports, so you would see him often walking around with his engineering supervisors. They were talking to the engineers, and understanding the issues.
He came into our office one morning and asked me to come for a walk with him around the depot. He told me he wanted to get to know me a bit more, and about my background. The previous depot manager just about knew my name.
While we were walking around we stopped to talk to one of the engineers, to see how he was doing. He told us that he was working on a fault with the underframe of the train.
So the depot manager and I got safety glasses and hats, and walked under the train to see what was happening. For the other engineers to see us under the train was great, it showed them that he cared.
This was one of the first times I learned about how important it was to listen when you are the leader. When we reached the engineer under the train, he allowed him to tell us what the issue was first. Then the depot manager would ask open questions of how he was going to resolve the issue.
He didn't tell him how to do it or what to do, he allowed him to think about it himself. He made it extremely comfortable for the engineer to talk to him.
I remember thinking at the time, he has an amazing skill to get people to think for themselves, and come up with their own solutions. I really liked this new highly effective leader, and still keep in touch with him today.
4. Listening To Your People
He was the depot manager who would listen to me, and ask me questions. The questions he asked, helped me to come up with solutions that were required to improve our trains' performance. Especially when the wheels on the trains were not lasting their full life of six years.
He asked me to "think outside the box" and work out a solution for making the wheels last longer. I loved that about him, he empowered us to go away and think about the problems we had. I would brainstorm with my teammates (teamwork), and then come back with our solutions.
When I had my solution to how we were going to increase the wheel life on the trains, he invited me into his office to discuss it. He would get out his whiteboard, a marker pen, and write down all the ideas I had. Then one by one would ask me thought provoking questions about them.
This made me think deeper, to see if there was anything I missed. Half the time I did, but that was because I wasn't thinking deeper enough. It was an excellent technique he used, and was one I used with the teams I led, everywhere I went.
Then, when we finished he empowered me to implement the solution and fix the problem. He didn't once "tell me" what to do. When I did implement the solution, the wheel life increased, and it was successful.
The feeling I got from doing that, and how we worked it out together was amazing, I wanted that feeling every day. He was a highly effective leader and got results. His predecessor was an insecure leader and planned to get results.
Highly effective leaders want to fix problems. Low performing leaders want to discuss problems. As a manager, you can either be part of the problem by discussing it, or you can be part of the solution by helping your team fix the problem. It's your choice.
If you want to get results, you must first get started
I welcome hearing how this post has influenced the way you think, the way you lead, or the results you have achieved because of what you've learned in it. Please feel free to share your thoughts with me by commenting below.
Check out my other articles by Clicking HERE
All the best,