Good things don't come to those who wait. Good things come to those who are driven enough.
Everyone throughout the world are driven by different things. For example, I am driven by helping others. Hence, I am writing my articles and my other materials to help people with their leadership, and with their personal growth. When people are inspired, they are driven internally, from how they are feeling inside of themselves.
When people are motivated, they are driven externally, so it requires certain actions from others that will motivate them. Highly effective leaders don't have any issue with being inspired, and driving themselves from within. Low performing leaders are not driven from within, so they need the actions of others to motivate them.
Highly effective leaders in every industry in the world are driven in the same way. The principles you are learning as you go through this article and my other articles, they are proven and tested to work. Highly effective leaders are aligned with these principles and embrace them all the same.
How we can differentiate between each highly effective leader is the results they see both individually and as a team. The description of how/where they applied these principles will be different with each highly effective leader. The principles are the same, but the application is what is different.
What inspires and drives each highly effective leader will also be different, as this is very personal to the individual.
1. What Drives YOU?
Do you want to become a highly effective leader? How driven are you right now?. What being driven actually means as a highly effective leader is; don't wait for things. Don't wait for someone to tell you what to do. Don't wait for things to happen within your team or organisation. Don't be afraid to say what you think, at the right time.
When you become a highly effective leader, you will be driven to be proactive. So, if you think something should be done, then do everything you can to get it done. If you have an idea that you think will work, talk to your boss and recommend the idea to him/her.
Don't give up until the idea is at least tried out. If it doesn't work, move on. If it does work, then do everything you can to get the idea implemented. The most important thing is DO NOT GIVE UP!
A low performing leader will do everything they can to get away with as much as possible. All they want to do is get through their hours for the day, and then go home. They will not think for themselves, or be proactive. They will wait to be told what to do by their boss, or someone else's boss.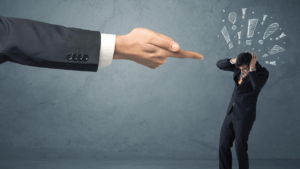 I have actually heard people say in the previous places I have worked, "I'm doing nothing today, Tom you are doing all the work today." So, I asked "Why is that? Why am I doing all the work, and you nothing?" They replied, "Because I don't want to be here. If I don't have to do anything, then I won't."
What an attitude to have. I was only young then. But, if I had a person like that on my team when I was a leader, they wouldn't be on my team for much longer. They were not driven whatsoever. They didn't care. They had no purpose. It is very sad to think that there are people like that in our workplaces.
2. Who Do YOU Want To Become?
As a highly effective leader, you will have the drive to improve things within your team and your organisation. This is the type of person I would want on my team. I want the type of person who thinks ahead.
So, if they are currently working on a task to improve things, they are already thinking about the next improvement, and then the next improvement. They will have a vision of what their improvement ideas look like, and be driven to get their ideas implemented.
Would you want a highly effective leader like that on your team? Or, could you become that highly effective leader? Do you have the drive to become this?
When I was part of the asset management strategy team working for Liverpool's train operating company, I led a number of activities. 50% of the activities were done as part of a team that I led, and 50% of the activities I did as an individual that didn't require others all the time.
However, when working on my own, I didn't see it as actually working on my own. I always felt part of the team, and I wanted to make the best of the new asset management strategy. I had a purpose, and I wanted to make as big an impact as possible.
I felt like a highly effective leader, and I actually was a highly effective leader. This wasn't trained into me, or a motivation from somebody else. This was inspiration from within.
I was part of something that I knew would make improvements on the performance of our trains, and most importantly our people within the organisation. I was driven to ensure that these improvements happened, and that everyone within our organisation benefited from it.
I made sure that the other members of the asset management strategy team had the same opportunities to put their mark on it. I wanted them to make a difference too. So, we swapped roles.
3. What Are YOU Willing To Share?
Some days I would be leader, and other days someone else would be leader, and then someone else. It was a great way to share ideas, experiences, and it became a lot of fun. We were all driven to make this strategy work, and it did.
We improved the performance of the trains in service to 40% from 2008 to 2009. This was one of the biggest improvements that the company ever made, especially in the engineering department.
Everybody was really happy at the time, and things were going well. We were all helping each other as a team, and were looking out for each other. That is exactly what highly effective leaders do, and we were very driven highly effective leaders.
Other train operator's in the UK were curious about what we were doing. They wanted to know why we had improved our fleet of trains by so much. We were getting visits from them down in Liverpool. So, I pulled together a few of the team and we presented our strategy to the other train operator's.
They were really impressed, and were going to try out some of the same ideas on their own fleet of trains. Which in itself was a huge compliment to us.
As you can imagine, the low performing leaders did a lot of moaning and groaning during this time. They were complaining that they had to do more work, and that the job was difficult. When in fact what we were doing was making their job easier.
It just seemed harder because they didn't do a lot most of the time normally. Anyway, their complaints were falling on deaf ears. We knew what we did was great, and we were very proud.
4. Does Your Vision Drive YOU?
Our engineering director Kevin began the new asset management strategy. It was his vision, his mission, but it was ours to deliver. He inspired us to take this on ourselves, as our own, and do something that made a huge difference to the whole organisation.
Kevin was one of the most driven people I had ever met, even now 10 years later. Even though he was the engineering director, he portrayed most, if not all of the traits of a highly effective leader.
When he went through the strategy with us as a team for the first time, he kept referring to "US", or "WE". Not "you", or "them".
It was always "We can make the difference." Or, "There is only us who can make the difference." It was phrases like this that inspired us as a team, especially me. I remember these exact words "We will be the team who will have a positive influence on the whole organisation. We have the opportunity to make a huge impact and make a difference starting from now. We don't need to have a certain job title, or be in a position of power. We can make a difference right now."
I will never forget those words. The reason I won't forget them is because I have used the same words when talking to my future teams. Kevin was a huge influence on me, and a role model. He was a very driven, highly effective leader.
Are you driven enough to be the same or similar?
To be truly successful, we must be excellent. To be excellent we must compare ourselves against our own potential. Not comparing ourselves against others.
I welcome hearing how this post has influenced the way you think, the way you lead, or the results you have achieved because of what you've learned in it. Please feel free to share your thoughts with me by commenting below.
Check out my other articles by Clicking HERE
All the best,