Trust is the only thing you need if you want to make any changes
The more you improve your effectiveness as a leader, the better leader you will become, and eventually you will be known as a highly effective leader. However, in order for you to improve your effectiveness you need to get the foundation of leadership correct – Trust.
If you increase the level of trust you have with your team, then you will also increase your influence. The more influence you have, the better the team will become.
Insecure leaders don't use influence with their teams, they use their position and authority. When they do this they lose trust with their team. To be able to influence a person, you must build trust with that person first.
If the insecure leaders focussed on building trust rather than their position and authority, then they would become a lot more secure. They would also be on the path to becoming a highly effective leader.
1. Building Relationships
If you want to achieve amazing results with your team, then you must deliberately build relationships with each team member. Then you must look to build trust with the whole team, as a team.
If you don't have trust with every team member then you won't have any influence. Trust will set you on the path to becoming a highly effective leader for your team. Believe me, when you have trust the team can achieve amazing things.
What is it exactly that you want your team to do? Do you want them to follow you because they have to, and do only what is expected to get the job done? Or, do you want them to follow you because they want to, and go the extra mile to achieve amazing things?
When you start to build trust with each team member, it is important that you are very clear of your intentions for each person at the very beginning. In situations when you don't know a person, and they come near you, we subconsciously throw our guard up.
We do this because we don't know what their intentions are. Is this person trying to help me? Is this person trying to harm me? This all happens very fast, so almost straight away we know whether to trust them or to just ignore them completely.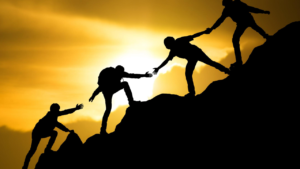 However, when you are the boss, it is more than just a conversation, it is a job and a living at stake. So, if you want the person to trust you and follow you, they need to fully understand what your intentions are.
2. Declaring Your Intentions
The team member's first thoughts about you will be: "Does this person want to help me? Does this person want to use and manipulate me? Does this person want to motivate me? As you are their leader, you will hopefully want to motivate and inspire your team.
On some occasions when someone just wants to help you, it's because they want something from you. They are being selfish, and just thinking of themselves. However, if they want to motivate you then they are thinking of you, which is exactly what leadership is.
The team member will be able to sense right away if you want to motivate or help them, because they will be able to feel it.
If your team member feels that you want to lead them, and motivate them for their benefit and not yours, then they will start to trust you. When that happens your influence with them will increase. If your team member feels that you are looking after your own interests, and not theirs, then they will not trust you at all.
When that happens you will have no influence. I always recommend to people that if you don't trust your boss, then you should leave and move on. But, most people won't because it is just easier to stay where they are and plod along. They will remain unhappy, hate their boss, and hate their job.
But, the likes of you and me who want to work on ourselves and develop, we will move on and search for something better. Managers who want to develop themselves will not stand by and be manipulated by their own insecure leaders.
That is why these insecure leaders usually lose their best people, because they can't lead them well. Those who stay with the insecure leaders are only interested in one thing, being paid.
When they are only interested in pay, they will only do just enough to ensure that they are paid. If they do this every day, then they will become more, and more frustrated.
3. Being A Servant Leader
In an earlier article "How To Serve Others", we discussed whether your boss is servant leader or is he/she looking to be served. If your boss is a servant leader, and wants to serve you, do you feel manipulated or motivated by him? You will feel motivated.
You will feel that your leader wants the best for you, and has your interests at heart. So, when you feel this, you are going to perform for your leader and your team a lot better.
However, if your boss is looking to be served by you, is only looking out for themselves, do you feel manipulated or motivated by him? You will feel manipulated and so will the rest of the team.
Can you see how what I am sharing in this article is designed to deliberately help you learn how to build trust with your team and others? Can you understand the different aspects of what it takes to become a highly effective and servant leader?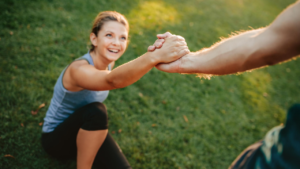 I hope you can. I want you to TAKE ACTION on what you are learning in this and my other articles. So that you eventually become the highly effective leader who knows how to build relationships. The highly effective leader who knows how to build trust. The highly effective leader who knows how to lead your team to success.
4. Taking Action
I want you to take action, so that the other highly effective leaders within your organisation see you as one of them. Once you can do all of this, you will become a star. It will be very easy for you to become noticed. That is when your team's performance will go from strength to strength.
What I do when I have start working with a new team or team member, I am very open from the beginning. I do this so I can build trust with them. I don't wait on it. So, I talk about my background and where I've been, but I also talk to them about my weaknesses.
I show them that I am vulnerable. I will then let them know that I want to work on my weaknesses and that I am going to try my best to improve. I do this for the good of the team and for myself. Have you ever had a conversation like that with your boss?
I find that talking to team members about my weaknesses brings me down to their level. I am no longer the boss, I am just Tom. However, you can only do this if you are a humble and confident leader (as discussed earlier).
If you are too proud and arrogant, then you will find that having these conversations is very difficult. You will come across to your team member as fake.
Most managers think that if they expose their weaknesses to their team, then the team can use them against them. That is not true if you do it the right way. If you explain that you are willing to work on your weaknesses, then you have dropped your guard, and so will they. This is when trust starts to build between you both.
What are your boss's weaknesses? Has he/she shared them with you? Even if they haven't, I am very certain that you know what they are, because they will be obvious. If they haven't told you, that means they don't think they have any weaknesses. That causes distrust.
Always share your weaknesses with your team, and work on them. That is the best way to build trust.
Leaders have to be strong. But strength can be seen positively and negatively. To be seen positively, you need trust. To be seen negatively, you have no trust.
I welcome hearing how this post has influenced the way you think, the way you lead, or the results you have achieved because of what you've learned in it. Please feel free to share your thoughts with me by commenting below.
Check out my other articles by Clicking HERE
All the best,