When we talk about people skills, we usually mean leadership skills. What is the number one skill of any leader? Empathy.
A lot of people throughout the world do not know what it actually means to understand a person. I was one of these people for a very long time in my life. I didn't know how to really listen to a person, and I didn't know how to have empathy with a person.
I thought that to empathise with someone meant that you have to sympathise with them, but there is a difference. To sympathise with a person is when you have the same feelings as them, and you share them.
To empathise with a person means that you don't have to share the same feelings as them, but you do understand the feelings of that person.
1. Try To Be Understanding First
Having a discussion with a teammate and either agreeing or disagreeing with them is not the same as understanding them. A highly effective leader will always try to understand their teammate first before giving any opinion, feedback, disagreement, or agreement.
However, there are team members who will think that when someone is understanding them, that they are actually agreeing with them.
This is a mistake, so it's very important that when you want to understand one of your teammates first, ensure to let them know that first. Otherwise there will be a misunderstanding on your teammate's part.
A highly effective leader not only wants to communicate with his/her team, they want to connect with them. How does a highly effective leader do this? Firstly, they state very clearly to the teammate they want to talk about what their intentions are.
They may say something along the lines of, "I want to understand how you visualise things, and why you visualise them in the way that you do. I am not going to give my opinion on the matter, nor am I going to agree or disagree." This sets the foundation for the communication.
Then to connect with the teammate, they will listen more than they speak. They will use their ears a lot more than their mouth, and let the teammate do the talking. It's important that when you are listening, you understand the meaning of what the teammate is saying.
2. Allowing Ourselves To Be Influenced First
I talk a lot about influence, and how as highly effective leaders and leaders that to increase our influence with others is how we lead. However, in the case of trying to understand our teammates, and connecting with them, we must allow ourselves to be influenced first.
By understanding the teammate first before they have the opportunity to understand you, it is like you are passing the baton of influence onto them. They have taken the reigns of leader in this communication.
What you are basically communicating through your actions of understanding is, "I am patient, and I want you to be understood first before you understand me. You are important to me." It doesn't seem like a lot, but doing this can be very powerful in communicating and connecting with your teammates.
By passing the baton of influence, by the time you receive the baton back, your influence will have increased a lot more than you expected.
If you were to do the opposite, and try to get your teammate to understand you first, then they will not listen to you. They will probably not be aware or know how to really understand someone, as you now do.
So, because they think you don't understand them, they will try to talk over you to help you understand them and the communication will ultimately breakdown. They will use their mouth a lot more than they will use their ears.
But, if you do what we discussed above, and understand the teammate first, then they are a lot more prepared mentally to listen to you. They will want to understand you, and by doing this they are passing the baton of influence back to you.
Your teammate will want you to influence them, and are happy to be influenced by understanding you.
3. Communicating With Your People
When a highly effective leader communicates and talks to their team, they want to be understood by them. If they are talking to someone who is not listening to them, then that is a complete waste of their time, so they will stop the conversation.
When listening to their teammates so that they can understand, they reassure their teammate that they are listening.
They do this by saying things like, "I can sense that this is a very emotional subject for you. Or, "I can tell that you are excited and want to talk about it a lot more." Or, "If you would rather talk about this another time, I am always available to listen."
Other ways that a highly effective leader assures their teammates that they understand is by repeating what their teammate said. If there is more people involved in the conversation, then by repeating and rephrasing what the teammate said will allow the other team members understand too.
This is a good trait to have, and it is very effective when the conversation is emotionally charged, or the topic is very important to the team.
A highly effective leader may say things like, "Can I just repeat what you said then…" Or, "I think I understand you correctly, is what you mean…" Or, "I hear what you're saying, is this how you're feeling about it…"
A low performing leader will want to be understood first, so will put all of their energy into talking more than listening. Most of the time, they are misunderstood because what they're saying is mostly negative. People switch off when listening to negativity, unless both people are negative.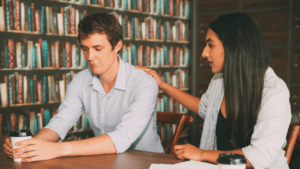 The negative team members who I have worked with in the past, every single one of them were the same. If what they were saying wasn't understood, or nobody was listening, they would all do the same thing.
They would become very frustrated, so their voices would get louder, and louder. Some of them would become very animated and kick things or push things over.
It's interesting to listen to a low performing leader talking to another low performing leader. They are both looking to be understood first, so they are both talking at each other.
They are not talking to each other. In the end, nobody is understood and the communication breaks down. In the end, it is up to us when we talk, but it is up to others on whether they listen to you or not.
4. Communicating As Part Of A Group
Being part of a team, whether it is an engineering team or in any other industry, for it to work then we must understand each other. As a highly effective leader, we must allow others to be understood before ourselves.
If the communication is between 3, 4, or 5 people, then we must still allow everyone else to be understood before ourselves. That is what passing the baton of influence is, and what it means to connect with your teammates.
What we must also do as part of a group communication is to step in from time to time. If a person is speaking to allow others to understand them, then as a highly effective leader, we must allow the person to be heard.
If someone talks over the person, then we must step in and tell that person to wait their turn to speak. It is not being rude on our part, it is being courteous towards our teammate.
Understanding our teammates first, and allowing them to speak is a trait of a highly effective leader. But, what about understanding ourselves? Before we understand others, we must first understand ourselves.
To do this we must continue working on ourselves every day. When working on ourselves we will understand our own strengths, weaknesses, likes, dislikes, and our capabilities.
Highly effective leaders work on themselves every day to understand themselves. I urge you to do the same.
To really listen to a person, what are you listening to? We listen to what they say, the tone of their voice, how loud they are speaking. But, to really listen, we must listen to how they feel, and how they think.
I welcome hearing how this post has influenced the way you think, the way you lead, or the results you have achieved because of what you've learned in it. Please feel free to share your thoughts with me by commenting below.
Check out my other articles by Clicking HERE
All the best,