If you could create leaders, who believe what you believe, follow you because they want to, and have the passion to create leaders themselves, imagine what kind of organisation you could build.
The more you show respect for your people, the more it will get noticed by other leaders within your organisation. Some of the leaders (low performing leaders) will react negatively to you, but the other leaders will react positively.
Even the senior leaders will notice you, and will consider you an asset who can help them develop the other leaders and their teams within the organisation. I have had this happen to me before when I worked at Siemens, and I was asked to create resources that would help develop some of the leaders.
It is highly likely that the organisation you work in, whether it is your own business or not, when it comes to leadership development of your people, a leadership expert will be hired.
Most organisations throughout the world will not use their own people when it comes to developing their leaders. The reason is, they do not encourage their people to work on themselves every day in the area of leadership, just like I am doing with my articles.
1. Leadership Is A Lifelong Journey
To be a highly effective leader, you should not wait for your organisation to hire in a leadership expert to train you for a week and then disappear. Leadership is a lifelong journey for you, and it is a lifelong journey for your people too.
Most leaders do not pay any interest in leadership development, as they don't believe they need it. They have the position of leader, and that is all they need. That is how most low performing leaders think.
However, because you work on yourself every day, and you are striving to become a highly effective leader, you are in a great position to take the responsibility for leadership development in your organisation.
Just like I did when I worked for Siemens in London. The resources I produced still help leaders in Siemens today and they were delivered in 2015.
That doesn't mean that you need to start creating leadership resources, but it does mean that you must take responsibility for developing leaders, starting with your own team.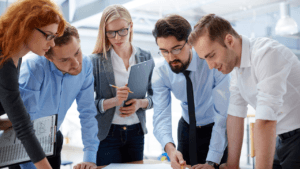 You should position yourself as the leadership development resource for your organisation. You have been reading, studying, and applying leadership principles in your own life, so you are in a great position to help others within your team and the organisation to do the same.
2. How Do You Position Yourself?
Being the leadership development resource will also help you to keep learning and developing your own leadership and personal growth. By continuing to work on yourself every day, helping others will form part of that work you are doing.
 "Leadership is not about you, but it does start with you." That is one of my favourite leadership quotes, and it is one of the most prominent. If you are not developing your own leadership, then how can you help others to develop theirs?
As you are teaching your team, and others the leadership principles that you have developed yourself on, you will be continually learning as you do it. Your people and you will be learning together, and helping each other along the way.
The more people you help develop into leaders, the more your influence will increase, and that is the key to being a leadership resource for your organisation. Leadership is influence, so leverage the leaders that you help develop. As they increase their influence with others, your influence will flow through them.
The leaders at the same level in the organisation as you will be asking for your help too, as you help develop the people who report into them. This is a great opportunity to increase your influence with leaders who already have a lot of influence within the organisation, and the industry that you are part of.
Build strong relationships with them, help them, and they will help you in return. They will use their influence to raise you up, and help you to increase your influence.
As you are helping their people to develop too, you are reducing problems that they currently have in their team. By helping their people to develop their character, and strive to become a highly effective leader too, the number of followers you will have will be increasing day by day.
The leaders of the organisation will be happy to follow you because they want to.
3. Going The Extra Mile For Your People
I would recommend to you that you create leadership materials. For me, I created 3-5 minute videos on a leadership topic. I took a leadership book, I read through it thoroughly and learned everything I possibly could. I would apply what I learned in my own life first, and then I would create leadership videos from the content.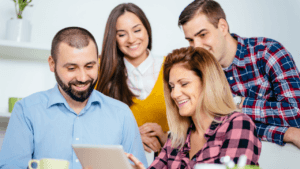 If there were ten chapters in the book, then I would create ten videos based on each chapter. I would try my best to make them 3-5 minutes as this seemed to be the best for the people I was helping.
This might seem a bit strange to start creating leadership materials, but I assure you, they really will help you and others. Especially when increasing your influence throughout your organisation. You are on a leadership journey, and so is everybody else within your team, and the other teams. Travel on the journey together.
When I created leadership videos at Siemens, I received so much support from the senior leaders, including the CEO of Siemens UK at the time, Jürgen Maier. The most influential leaders within your organisation will support you too, and your resources will become more in demand each week.
You will be viewed differently and others will want to follow you in creating their own materials. Whether that be in leadership or other topics. It will be great to see others want to follow in your footsteps and help others.
However, at first, you will get a bit of resistance from some people, and they will not buy-in to you straight away. Don't let this phase you, just keep going with what you are striving to achieve. Keep practicing what you are learning from my articles, and the other leadership and personal growth resources you are studying.
4. Don't Give Up
Keep working on yourself every day, and keep helping others to do the same. Take the responsibility for teaching others, and create your resources. Make it your mission to become the leadership development resource of your organisation, and I promise, you will get there.
As you become the leadership resource for your organisation, your team will want to help you. They will want to become a leadership resource too.
Other leaders will want to become leadership resources. So, before you know it, you will have built a team, and a culture of leadership development, and leadership resources throughout the organisation.
Focus on leading and developing leaders. Help them to develop themselves first, then help them to help others develop. We are not talking positions or titles here. We are talking about passion and the desire to help each other.
To achieve something good, do it alone. To achieve something great, do it with others. Leadership is about others, not about you.
I welcome hearing how this post has influenced the way you think, the way you lead, or the results you have achieved because of what you've learned in it. Please feel free to share your thoughts with me by commenting below.
Check out my other articles by Clicking HERE
All the best,