Does your character (who you are) match your reputation (what people think)?
When a person observes you, either at work or in life, they can't see what you're thinking or how you're feeling, but they can have a good guess by observing your behaviour. So, obviously if you have a smile on your face and you are behaving in a nice manner then you are feeling good, and thinking nice things.
However, if you have an angry look on your face, and you are behaving in a nasty manner then you are feeling bad, and thinking angry thoughts.
1. Your Character
It all comes down to character. As I've discussed before, who you associate with shows people what type of character you are, without even talking to you. They could be the people who you associate with at work, or in your personal life.
If we think of the environment we work in, and if a new starter joins your team, have you ever noticed how enthusiastic they are? Or, how much energy they put into their new job from when they actually start? It is at a very high level. But, then what happens?
The enthusiasm and energy that they had from the start begins to decrease, and they start to show their true character. You can first see this from the group they associate with. Eventually, they are influenced by this group either in a negative or positive way.
This may have even happened to you when you joined the company you are currently working with (remember, you work for yourself). It definitely has happened to me in the past, then I started to care less and not put as much effort in as I did from the start. I'll tell you now, your character will either push you forward, or pull you back.
When I first started as an engineer at 16, I didn't really have character. I just did as I was told, as did the other young engineers, and that carried on for the next 10 years or so.
I didn't think about climbing the ladder, or having the ambition to be a leader until I was 26 years old when I just finished my degree. The principles I am sharing with you in my articles, have been a 20 year journey.
So, if you're a young person or an experienced person and are ambitious to build a great career as a highly effective leader then you are on the right website.
You are a few steps ahead of the others who are not reading my articles as yet, and by implementing what I am sharing will only help you build your character, and ultimately your career and life.
You've heard the expression "it's not what you know, it's who you know". This is true in a lot of cases, but when it comes to character, the phrase is "it's not what you know, it's who you are". You can't manufacture your personality.
2. It Is Who You Are That Matters
You can try, but in the end your true character and personality will shine through. So, I encourage you to never try to show someone that you care about them, if you really don't. You are lying to them, and eventually they will find you out.
That is not a good position to be in. If people can sense that you are lying to them and you are not being sincere with them by showing them you care, when you don't, then your level of influence and trust with them will rapidly decrease.
They will not feel supported by you, or that you value them. If you truly don't care, then you have to be honest with them and yourself.
If you want your team members, leaders, organisation, friends and family to trust you and have a strong relationship with you then you must be honest with them.
Honesty and integrity is what character is all about. If you truly don't care for something, be honest about it. If you truly do care for something, be honest about it. It's not about what you know, it's who you are and how much you care.
It's very hard work to portray an image of happiness when we are feeling angry or sad.
When I talk about honesty and integrity, what I really mean is someone who thinks, says and acts in exactly the same way. It is not congruent between all three. They must also make decisions that are based on excellent ethics and evidence.
3. How Honest Are You?
In 2006 when I worked with the Liverpool train operating company, my engineering director sponsored me for my degree on the second day I met him. But, what I really loved about him was, what he thought, what he felt, what he said and what he did were all the same.
That is what I mean by being congruent all the way through, and because he was congruent, he showed very strong character.
He didn't just "talk the talk", he "walked the walk". His actions spoke louder than his words, and that is why he is now a CEO in a London train operating company.
So, when it comes to a role model, he is definitely one of mine. I want to follow his example of being in alignment with my thoughts, my feelings, my words, my actions and my beliefs.
If I can do this on a daily basis, then I will give myself the best foundation to build trust and increase my influence with my teammates, my leaders, my organisation, my friends and my family. And, if you do exactly the same and model me, then you will have exactly the same results.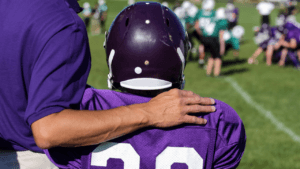 If you "talk the talk" and walk the walk", then your trust and influence with people will only increase, and those people will want to follow your example and model you.
If you "talk the talk" and don't "walk the walk", then inevitably your trust and influence with people will only decrease, and those people will not see you as an example or a role model. This is all about character building.
At the moment, if you can "talk the talk" (saying what you are going to do) but you can't "walk the walk" (doing what you have just said) then that is ok, as long as you acknowledge that and are honest with yourself.
You can work on your "walk" and turn it around so that eventually you can "talk the talk" and "walk the walk", that is what it means to build your character.
4. How Many Promises Have You Broken?
Another level to building on your character is what you stay committed to. How many commitments or promises do you break? Are you a trust builder or a trust destroyer? What do you care about? Who do you care about?
What and who you care about is very important when it comes to other people. If you show that you care by thinking, feeling, saying and acting in a congruent way, then your ability to influence will be much better.
Throughout your career, you will have in the past and will do in the future work with and meet people who have the same qualifications, experience and ambitions as you do.
However, it is likely that you will end up in different places. One of you may be successful, have a great career and live a great life. One of you may stay exactly where you are now, have a mediocre career and just exist in this life. Why do you think that is?
CHARACTER!
Your character is "Who you are on the inside, and what others see on the outside". Your teammates, leaders, organisation, friends and family all have their own opinions of you through your character. Build your character, so that you give them the best chance of having a good opinion of you.
What people think of us is how our reputations are formed. What kind of reputation do you want?
I welcome hearing how this post has influenced the way you think, the way you lead, or the results you have achieved because of what you've learned in it. Please feel free to share your thoughts with me by commenting below.
Check out my other articles by Clicking HERE
All the best,