Creating change with your people and your organisation is a commitment. You cannot say "I wish this, or I wish that" and expect things to change. When you make a commitment to change, you must say "I will do this, or I will do that." What commitment to change are you going to make?
When in a conversation with your team, do you ask them questions, or do you do most of the talking? What kind of questions do you ask? Open or closed questions? Highly effective leaders know that by asking a member of their team a question is a lot more powerful than giving them a direction.
So, to make a more powerful impact with the individual they ask lots of questions.
Being part of teams that were managed and not led, we got asked lots of questions too by the manager. But, they were different types of questions. They were not thought provoking questions that would influence you to think deeply.
Managers of people only seek the right amount of information needed for them to make their decision and then give a direction. They are not interested in listening to your ideas on the subject, or any recommendations that you may have.
1. Why Ask Questions?
Highly effective leaders ask lots of questions because they want the team to think deeply about the subject, and in the end make the decision or come up with the solution. The only direction the highly effective leader gives is through the types of questions they ask, open questions (Who, What, Where, Why, How).
Thought provoking questions. Highly effective leaders don't want to make the decisions for the team. If they did then the team would not grow, they would stay stagnant.
The only way to help the team grow is by helping them to think and act for themselves, and asking great, thought provoking, open questions is an excellent way to do that.
When you ask your people questions, you are building a stronger relationship with them, and building trust. It shows them that you care about them, and that you value their thoughts, ideas, and opinions. You are showing them respect.
Not just talking at them in a one way conversation. It is a two way street. Your people, or person will feel closer to you, and feel part of the team. It becomes a "we" situation, not "us and them".
2. Opening Up To Your People
When you ask your people questions, you are opening yourself up. You are letting your guard down, and actually inviting your people to influence you. If they can influence you, you are showing them that you have listened and that you understand what they are telling you, what they are feeling, and that you are there for them.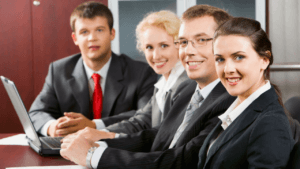 If you allow yourself to be influenced, then your influence will increase too, and you will find it a lot easier to gain buy-in and build trust with your people.
When you ask your people questions, you are allowing your team to take ownership. When they take ownership of the situation, they are far more likely to work with you and their teammates to come to a solution, and make a decision.
3. Decision Making
When the team are involved in making the decisions, they feel like more of a team, and you will receive the respect in return that you are giving to them.
When you ask your people questions, you are digging deep into the minds of your people. They are opening up to you by thinking deeply, and when you dig, you will start to understand their minds and how they think. Do they have a leader's mindset?
Do they have the potential for a highly effective leader's mindset? When you find that out, you will know which members of your team have the capacity and are willing to lead right now, and who still needs to work on it. When you have this information, it will be far easier to know who to focus on and make a priority.
When you ask your people questions, you are empowering them. Empowering is an overused term in leadership, and a lot of the time for the wrong reason. Empowering means that you are sharing the responsibility with your people.
You are inviting their opinions, ideas, and recommendations. You are encouraging decision making. You are not dictating to them, you are empowering them. Asking questions is a great way to empower someone.
When you ask your people questions, you are giving them the chance to open up about their frustrations, and what they have on their minds. Most people keep their frustrations to themselves. But, when you ask questions, the person finds it easier to let go of their frustrations and talk about them.
This gives you the opportunity to set things straight, if what they are thinking is incorrect. Or, it gives you the opportunity to help them change how they feel about a certain issue. But, most of all it gives you the opportunity to listen.
When you ask your people questions, you are creating a mastermind. A mastermind is a group of minds that are on the same wavelength, not just one. The leader cannot think of everything by themselves (like my situation as performance manager with Siemens).
When they understand this, and invite the team's minds too, they will understand that many minds is far better than one mind. Creating a mastermind environment gives everybody the opportunity to contribute and give their opinions, ideas, solutions, and recommendations.
When this happens the team feels like a synergy. It creates an environment of freedom to express yourself, open up, and be yourself.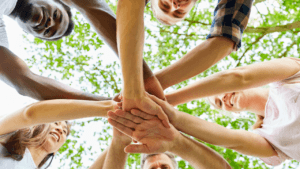 Creating a mastermind group within your own team is a great thing to do. I have done it, and the feeling you get from it is amazing. Especially when everybody contributes. This environment encourages discussion, teamwork, and allows everyone to empathise with each other.
It brings the team closer together. When you ask questions of the mastermind group, you can actually see your team growing and developing as they answer the questions. If they get stuck then another member of the mastermind will help. It is wonderful to see. I would encourage you to do the same with your team.
4. Opportunity For Growth And Development
Asking lots and lots of questions also gives you the opportunity to grow and develop. The more questions you ask, the better your questions will become. The more questions you ask, the deeper you can dig into the minds of your people, and create highly effective leaders within them.
The more questions you ask, the team will give you better answers, better solutions, and ultimately better decision making.
If you ask a poor question, then you will get a poor answer. If you ask a good question, then you will get a good answer. If you as a great question, you will get a great answer.
Always keep in mind, asking questions doesn't mean you do most of the talking. By asking questions, you are giving yourself the opportunity to listen, not talk. We still need to listen 80% of the time. The questions we ask are giving our people the opportunity to speak, not you.
Always remember that, and always remember you can ask more than one question in a conversation. The more great questions you ask, the more great answers you will receive.
Low performing leaders answer questions with very short answers that gives their people just the right amount of information. Or, in my experience, most of the time gives you no information at all. They just want to get rid of your question because they don't know how to answer it.
However, a highly effective leader will answer a question from their people with a question. They know that if they give them the answer, they are not growing the person.
But, if they ask a question in return of the question then they are helping their person grow by getting them to think for themselves. Thought provoking questions is an excellent way to grow your people.
By accepting responsibility for the future of yourself, and your people, you will have the power to create the opportunities you need, to build the future you see in front of you. What does the future look like? What is your vision?
I welcome hearing how this post has influenced the way you think, the way you lead, or the results you have achieved because of what you've learned in it. Please feel free to share your thoughts with me by commenting below.
Check out my other articles by Clicking HERE
All the best,