It doesn't matter how good you think you are, if you are insecure as a leader then your skills will account to nothing
As you start growing and striving towards becoming a highly effective leader, you will start to feel less stressed about work, and other areas of your life. Personal growth, and working on yourself deliberately is what will help you become that highly effective leader. It will also help you to become a secure leader.
When you become a secure leader, you will start to feel less threatened by other leaders or "managers". The reason being is, you know in your heart that you are consistently and deliberately working on yourself every day to improve. They are not.
You are now in charge of your own personal growth and development. You are now in total control, and your mind will start to become clearer. You will not have to worry or be stressed about the little things anymore. The other managers who you work with are just "plodding along" day to day, and trying to see out each shift.
They are the insecure ones. I noticed it a lot throughout my career, the insecure leaders are the ones who do a lot of "brown nosing," and accuse others of stabbing them in the back. They do this to try to get ahead of the other managers in the organisation. But really, they are so naïve because they have no idea how to really get ahead.
Unfortunately in the business and corporate world, these are the kind of things that insecure leaders and managers do. They do this because it is the only way they think they can progress in their careers.
Did you notice that I used the word progress and not grow? The reason for that is because they are not growing at all, they are simply stagnant.
These insecure leaders are the ones that cause issues within the team and the organisation. However, a secure leader would remove the same issues.
1. The Insecure Leader
We will now discuss what an insecure leader does and how you can notice them.
Throughout my career I have changed jobs for my number 1 reason; to continue growing. However, on some occasions I have left for 2 reasons, and the other reason was the relationship I had with my boss. I would always do my best to make a difference within the team, and the organisation.
But, for some reason with a number of my old bosses they didn't like it. I put it down to them being insecure. They didn't like others getting ahead of them or suggesting new ideas that might work. There has been research done throughout the world on this subject.
From this research, it has been found that the main reason that people quit jobs, is because of the relationship with their boss. This is a very sad situation because a leader's purpose is to build trust and relationships with their team.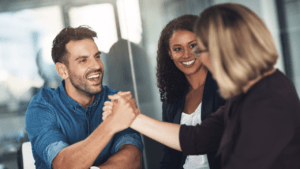 It is also to help lift themselves, the team, and the organisation to higher levels. It is not to make people quit. Relationship breakdowns between a leader and a team member is definitely a trait of an insecure leader.
When a manager takes on a new team, their first and most important task is to build a relationship with each team member. It is not to assign tasks right away. It is not to tell them what to do. These are traits of an insecure leader.
2. Taking Responsibility For Your People
If a manager does not want to build a relationship with their team, then this creates distrust between them and other members of the organisation. You can also tell an insecure leader because he/she will actually blame their own team if things go wrong, or they are getting poor results.
They are not willing to take the responsibility for it. You will also notice that when the team does well and achieves good results, who is the first person to take the credit? You guessed it, the insecure leader. So over time the team will start to behave in a similar way to the insecure leader.
The team will not be willing to help the organisation with their ideas. The team will only do what is required, and will not go that extra mile for their insecure leader. The team will only follow their insecure leader because they have to, not because they want to.
For a team and an organisation to thrive, communication between everyone is absolutely essential. How we communicate to each other is most important. We MUST be clear on exactly what we need to do to get the job done to the best of our ability.
However, an insecure leader is very reluctant to communicate in that way. An insecure leader will only share with their team the bare minimum of what is required to get the job finished. They do this so that nobody in the team will need to share their ideas to make the job better, or achieve better results.
If an insecure leader were to share everything with their team, their boss, and the organisation, then that will risk others getting ahead of them. An insecure leader cannot have anybody getting ahead, as we have discussed.
3. Blame Culture
Have you ever worked, or do you work in a place where the phrase "this is a no blame culture" is over used, by almost everybody? That is a sign that you work among insecure leaders. The fact that they over use this phrase actually means that it is a blame culture. If there was no blame culture, why even mention it?
Insecure leaders are very quick to blame anyone other than themselves. They will blame their own team, their own boss, the leader of the organisation and other people within the organisation.
So, what happens is everyone takes a lot of time to defend themselves from being blamed. Whereas if the leader took responsibility, the situation would be finished, and we could all move on very quickly.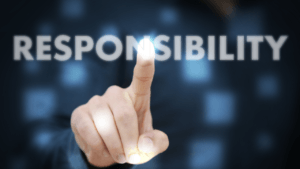 Most managers in every industry in the world think that because they are "leading" the team, that they should have all the answers. They also think that they should have all the ideas. Nothing could be further from the truth of leadership.
As I have said, and will say on many occasions, a leader's role is not to be served, but to serve their people. An insecure leader will not allow their team to share ideas or information, because it might expose their lack of knowledge.
4. Teamwork
An insecure leader hates nothing more than to be challenged. So, if the team are not "allowed" to share ideas, or even think, then they will not be able to challenge the insecure leader. The main point here is, the team will not work together as a team.
There will be no teamwork, just a bunch of individuals working for the same insecure leader. Teamwork is not what the insecure leader wants, so it will not be encouraged by any means necessary.
Does your boss help to develop you so that one day you can do their job? If they are then that is great. However, most managers will not do this. Insecure leaders cannot develop their team because if they do, that will make the person they are developing a threat to them.
An insecure leader cannot be threatened in anyway and will avoid it at all costs. Unfortunately that cost is usually an under developed and unhappy team. So what the insecure leader gets is a group of insecure individuals, who will only do what is necessary to do the job.
For the insecure leader this is great, because that is exactly what the insecure leader wants.
Overall, after everything we have discussed so far about insecure leaders, what do we get? We get a "team" and an organisation with extremely low morale, no confidence, insecure, unhappy and angry. They are not the traits of a team.
They are the traits of a group of individuals who work for a very insecure leader. The future for the team and the organisation would not look great, and this is the responsibility of the insecure leader. When the team first came to the company, they were excited and hopeful for the future, and how they can advance themselves in their career.
They will have been looking for opportunities to learn and grow. But all this hope will have been drained out of them by the insecure leader.
All in all, an insecure leader is toxic inside an organisation. Please ensure that this is not you in the organisation you work with.
As a leader, it is okay not to know the answer. That is a sign of a secure leader. If you say you do know the answer when you don't, then that is a sign of an insecure leader. The organisation needs secure leaders, so be honest with them at all times when you are challenged. If you don't know then say you don't.
I welcome hearing how this post has influenced the way you think, the way you lead, or the results you have achieved because of what you've learned in it. Please feel free to share your thoughts with me by commenting below.
Check out my other articles by Clicking HERE
All the best,