If you raise up another person, you are also raising yourself up.
To leverage your team, you need to share your knowledge. In all industries throughout the world, you will always come across people who don't like to share their knowledge. They are known as "knowledge hoarders" and they make life in the office, depot or work site very difficult for others.
1. Why Insecure Leaders Hoard Their Knowledge
They send a negative message through their team and throughout the organisation. Life can be extremely difficult at work for people who want to learn and grow, as they cannot get access to the knowledge they need to develop themselves. I have come across many people like this throughout my career, and I'm pretty sure you have too.
People who hoard their knowledge do so for 3 reasons:
The love to learn
They are a data snob
They are frightened to give it away
In my experience, I have worked with people from the second and third categories. The industry of engineering where I come from is full of data snobs. They thrive on having far more data than they need. It's funny, because these data snobs are usually the people who are paranoid and frightened to give their data or knowledge away.
They want to be seen as specialists by their peers and their leaders. They think that having more data, and information makes them the most valuable assets on the team. However, with highly effective leaders it is the exact opposite that is true.
If a highly effective leader learns something new, they are more than happy to share what they have learned with their team. They do this because it makes themselves and the team more valuable. They are putting the team first, as they can do a lot more with the information than the leader could.
Highly effective leaders know that the more the team knows, the more the team grows. They are deliberate with sharing knowledge, and teaching others to do what they can do.
The reason highly effective leaders share their knowledge is so that the team can perform to their best. The leader wants the team to be at their best at all times, whether the leader is absent or at work. There should be no difference in productivity or attitude of the team, because they are a highly effective team.
Only a secure leader is happy to share their knowledge, as they do not see anyone else as a threat. They only see them as an asset. So, if they share their knowledge, they are improving the asset by developing the team.
Insecure leaders are unhappy to share their knowledge, as they think it will make them weaker. So, with that in mind, the more they know the better it is for them. They are totally focussed on themselves and nobody else in the team.
If they share their knowledge and help the team develop, then they think one of them might threaten their job. So, they do their best to keep the team exactly where they are. They would prefer the team to get weaker, so they are easier for them to control.
Having control of the team is very important for an insecure leader. They want to tell each team member what to do, and how to do it.  They will also give them just the right amount of information to complete the task they have been assigned.
If one of them team learns more than what is expected to complete the job, then the insecure leader will feel very threatened, and start to panic. If they were absent from work one day, an insecure leader would prefer to come back to work with everything gone wrong.
This would be an opportunity for them to fix everything, and make themselves look good. Like they are some sort of superhero. Doing this makes an insecure leader feel important, and feel needed by the organisation.
2. The Difference In Types Of Leaders
Insecure leaders need to be needed. Highly effective leaders need to be succeeded.
Let's discuss the difference between a leader who likes to share their knowledge and a leader who wants to keep their knowledge to themselves. It is very obvious which leader is more valuable to the organisation.
When I was a performance manager working for Siemens in London, I had the opportunity to replace one of the team who left for a new job. I received a number of internal applications and there were specifically two people who I knew.
I knew how they worked and behaved. They were both really good at what they did, but there was one difference between them.
One of the candidates loved to show his peers that he was a superhero, preferred things to be in chaos so he could save the day. He was a knowledge hoarder and really only thought of himself. He was not interested in sharing his knowledge to help develop his teammates, or anybody else in the engineering department.
He did this so that when he was absent, the rest of the team could not do the same things he could. So, because of this, the team would suffer in certain tasks until he came back into work. He was very selfish with his knowledge.
The other candidate was one for sharing his knowledge and raising people up. He loved to develop himself and learn something new every day. He would then pass on what he learned to the team so they could have the same benefit.
So, when he wasn't at work, the team were still just as productive because they could do the same things as him. He wasn't a selfish person and believed in the team, and the organisation.
If you were in my shoes, which candidate would you choose to fill the vacancy in the team? Which candidate would you find the most valuable?
It is a no brainer really. The candidate who loves to share their knowledge and help develop others within their team would get the job.
Now, imagine you were in the situation that your organisation was declining and you needed to let someone go. You are the boss and you had to choose between the two candidates above to let go, who would you choose? Another no brainer.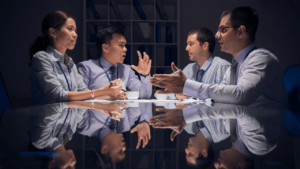 You would definitely want to hang on to the candidate who shares their knowledge, wants to develop themselves, and help develop the team. They are the most valuable. You would definitely let the candidate who is the knowledge hoarder go.
3. The Mindset Of A Knowledge Hoarder
When I was an apprentice it was my job to go round the different engineering departments, and learn from the best engineers. The company I worked for in Liverpool built the assembly lines that made car engines. Its clients were Ford, Jaguar, Mitsubishi and many others, so it was a huge worldwide company.
However, when I was supposed to be learning from the best engineers, they would hardly show me anything. One of them actually said to me and the other apprentices, "I don't want you coming out of your apprenticeship and taking my job." What a very paranoid and insecure attitude he had. It wasn't just him either, it was most of them.
This obviously came from the leadership. They were constantly telling us that the company was declining, and that we all need to work our hardest to keep our jobs.
A very bad business tactic to have. In the end the company did eventually go under, and we were made redundant. But, the leaders had nobody to blame but themselves for using negative tactics, and making the workforce paranoid.
4. The Benefits Of Sharing Knowledge
When you share knowledge with your team, you are building trust and increasing your influence with them. This is especially true when you share knowledge that they are not required to know. But, you share it with them anyway, because it will help them in their development.
When you share your knowledge, encourage the team to do the same, and pass on their knowledge to others. By doing this you are leveraging them, and they are then leveraging others, all in your image. With everyone sharing knowledge, everyone is becoming better.
What you are telling the team when you deliberately share your knowledge and help develop them is "I care for you. I want to help you develop and get better. I am looking out for you. You are in my thoughts."
If you are constantly growing and developing yourself, then you should never see anyone as a threat. You should only see others as assets.
As the leader, you are responsible for the development of your team. It is your job to make them better.
I welcome hearing how this post has influenced the way you think, the way you lead, or the results you have achieved because of what you've learned in it. Please feel free to share your thoughts with me by commenting below.
Check out my other articles by Clicking HERE
All the best,