If you treat a person as if they were already what they strive to, or potentially they could be, then they will become that person. If you treat a person the same as everyone else, then they will not become that person.
In most of the organisations I've worked with, it was very rare to see the managing director visiting the teams. Or, walking around the different departments, and talking to the staff. The same goes with the other directors, or the heads of departments. I find it strange because people are people.
There should be no barriers because of your position or title. Whenever I led a team, most of them didn't know what the managing director looked like. Some of them didn't know his/her name.
I would have preferred for those barriers to be broken down. I think it would have been appreciated to see the directors visiting our offices, or the other departments of the organisation more regularly. By having these barriers or walls, people get very comfortable with just being with their peers and teammates.
1. Knowing Your People And Networking
It is good to network with other members of the organisation, and build relationships so that you can increase your influence with them. When low performing leaders interact with different leaders or teams, they feel inferior. They see themselves as the boss, so they are supposed to be in charge all the time.
When they interact with other leaders, they start to feel even more insecure.
Highly effective leaders are the opposite. They love to meet new people outside of their team, or department. They love to build relationships, be humble, and connect with people. A highly effective leader would see this as time well spent, interacting with other leaders. They would value those sharing ideas and advice.
They see networking as a massive learning opportunity. They know that whoever they connect with, they will be learning and growing together. When networking, highly effective leaders ask lots of questions, as they love to do.
They also encourage their team members to do the same. They show them how valuable networking is, and how they can learn and grow with more people.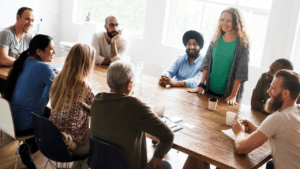 Low performing leaders will not encourage their team to do any networking, or seek out learning opportunities. The reason for that is they are not focussed on them or their potential, so they will not develop their team.
I have discussed book studies in earlier articles, and a low performing leader would never take their team through a book study. If they did, it would be developing their team and unleashing their potential. That is a huge no-no for a low performing leader as it goes against everything the low performing leader believes in.
Highly effective leaders see their team as equals. They are equal to themselves, to the directors of the organisation and the heads of department. So, they are looking for ways to unleash their team's potential, and opportunities to network with other highly effective leaders.
Low performing leaders focus on themselves and do not develop their team. They are very narrow minded, and when things go well they will credit themselves, when things go badly they will blame their team. Highly effective leaders focus on the team, and want to develop their team.
They are open minded, and when things go well they will credit their team. When things go badly they will accept full responsibility for it. More importantly they are demonstrating to their team that they care about them, and want the best for them.
2. Showing Your Team you Care
How do you demonstrate to your team that you care about them and that you want the best for them? What message do you send to them on a daily basis? Do you boost morale or do you decrease it? Do you increase your influence or do you decrease it?
Do you encourage them to work better together as a team? Do you inspire them to become more, do more, and want more?
When you start to apply the principles I am sharing in my articles throughout this site, your behaviours towards your team will change and improve. You will start to show them that you do care for them, and want the best for them. You will do this through how you act, and not what you say.
When you do this, the team will feel a lot more engaged, and encouraged to do and be more. They will feel empowered by you. You as the leader will be a lot more secure and open minded, so any barriers will be broken down.
Trust between you and the team will increase, and they will want to start helping you too. Your influence with them will increase, and they will follow you because they want to, not because they have to.
If you had the choice tomorrow to choose between two different bosses to work with, which one would you choose? Would you choose the boss who didn't show you that he/she cared for you, didn't encourage you, and didn't develop you or empower you?
Or, would you choose the boss who showed you every day that he/she cared for you, wants the best for you, encouraged you to be more, encouraged you to do more, and developed you and empowered you? The choice is obvious.
3. Do You Feel Cared For?
How does your boss deliberately develop you? Do you feel cared for by your boss and that he/she wants the best for you? How do you feel when you are around and talking to your boss? How are you going to start deliberately developing your team?
How are you going to demonstrate that you care for them, and want the best for them? How do your team feel right now? How are you going to make them feel better?
I talk a lot about growing and developing your team, and by doing that you are showing them that you care and want the best for them. However, there are more ways you can demonstrate to your team that you care. Here are some ways that I have shown the teams I have led that I cared for them, and want the best for them:
I asked their opinion on non-work related things.
I always tried to find ways to leverage them and be noticed by leaders.
I asked each member of the team what their ambitions, goals and dreams were.
I gave them work that they could make a success of, that would be noticed by the other leaders.
I gave them networking opportunities by introducing them to the leaders of the organisation.
I talked to them every day, even if it had nothing to do with the job.
I always thanked the team every day for their contributions.
To make your team feel like you care for them is not difficult at all. You just have to want to do it, and not see it as a chore, or that thing that you have to do each day. If you feel like that then you will not sustain it. You really do have to truly care for your team.
The more you do it, the easier it will become, and your relationships will build and build every day. This is another part of your journey of personal growth, and working on yourself EVERY DAY.
If you look at the list above of how I made my team feel cared for, is your boss doing the same, or similar things with you? If they are not, but they started to do those things, how would your relationship feel different? What would change? Would you feel cared for? Would you feel better or worse?
If I asked your team if you did the things on the list above, how would they react? Would they agree that you do all or some of those things? Would they feel cared for if I asked them?
If one of your team members felt that you didn't care for them, or that they mattered to you, the simple truth is that you don't care for them, and they don't matter to you. If that is the case, how are you going to change? Do you even want to change?
If you start to forget about certain team members and focus on the few, then you have forgotten your purpose as a leader.
I welcome hearing how this post has influenced the way you think, the way you lead, or the results you have achieved because of what you've learned in it. Please feel free to share your thoughts with me by commenting below.
Check out my other articles by Clicking HERE
All the best,