Being open minded keeps us curious. When we are curious, we never stop learning new things, or finding new ways.
A highly effective leader loves to ask questions, especially of their own teammates. They do this to prompt their teammate to think deeper than they normally would. So, they type of question they would ask would be a probing question.
1. Learning Opportunities
This is also an opportunity for the highly effective leader to learn, as we have just discussed. When there is a problem, they question their teammates so that they can come to a solution as a team, not as an individual.
This requires the team to share their ideas, and not be satisfied until they come to the best solution possible. Not just any old solution.
A low performing leader will go out their way to find a solution to a problem on their own. They do this so that they look the best compared to everyone else in the team. They crave the attention of their line manager and others in their department.
They see this as a way to compete with everyone else, rather than work together as a team. By providing a solution on their own, they are expecting to get all the credit for it. This is a very close minded way to work when you are part of a team.
They can't have another team member provide a solution to the same problem, because it will take away any credit that they wanted. So, it ends up not being a team at all, it is just a group of individuals.
2. No Comparisons
When it comes to highly effective leaders, there is no comparison between anyone. Everyone is on a level playing field. Everyone's ideas, opinions, and solutions will always be listened to and considered. A highly effective leader is not searching to get credit from anyone.
However, they do get a lot of credit for when the team achieves a great result. The great thing is though, they pass credit on to the rest of the team and share it.
As they are humble, they share everything they get with their teammates so that everyone feels part of the achievement. That is how a highly effective leader raises their team up.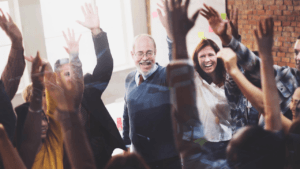 When I was in my early 20's, and going through university whilst working for Liverpool's train operating company, I was intent on being an autonomous person. Especially when it came to my work, as I thought that being autonomous was a sign of strength to my teammates, and to my boss.
I was making progress on what I was working on, and increasing my influence when I could, and I was continuing to build relationships throughout the organisation. If I needed help from somebody, I wasn't afraid to ask.
3. Accept Help From Others
But that was where I ended it. I resisted any offer of help from people, because I was of the frame of mind that accepting help from someone was a sign of weakness. Why would I need help from someone if I was continuing to make improvements each day, make progress in my work, and feeling good about myself?
I couldn't allow myself to show weakness to my teammates or my boss, otherwise they might think differently of me. When actually, not accepting the help and thinking that it was a sign of weakness, was actually a sign of weakness in itself. But, at the time I thought it was a sign of strength.
It wasn't until I had my graduate mentoring session with Ron that we discussed my progress, and my thoughts for the previous month that I started to think differently from then on. I was advising Ron on the work I had been doing and improving the performance of the trains, and he seemed really happy.
He then asked me, "How has Tom been doing and feeling since we last met?" I said, "I've been fine, and I've been working autonomously like you told me to."
He replied, "That's good, have your team been helping you too?" I was confused, "I thought autonomous meant you don't need the team. I thought this was my time to show what I could do."
Ron's answer to that was, "Absolutely not Tom. That is not what I meant. You are working on becoming a leader, leaders need their team to help them. If you didn't have teammates then you wouldn't be able to lead."
When my session with Ron finished, I was so disappointed in myself that I had gotten completely the wrong idea to what Ron had told me. He told me to be autonomous, meaning I can work alone when it was absolutely necessary. But it doesn't mean you can neglect your team, or refuse to receive their help when it was offered.
Over the next few days, I thought about Ron's words again and again. Instead feeling like I was showing strength by working autonomously, I now felt bad and weak. Why would I think that I can do something better on my own, instead of working with the help of my teammates? It was eating me up.
I was trying to be positive through being autonomous, and when somebody offered me help, I rejected it in a nice way, so I wasn't being nasty to anyone. But, I wasn't thinking about how I made others feel. They might not have shown it, but I'm pretty sure my rejection of help would have hit a nerve with the teammate who was offering.
I wanted to get to the bottom of why I was thinking in this way. Why did I not accept any help from my teammates? Why did I think I could do things better on my own? Why did I neglect my teammates? Why had I stopped listening to people?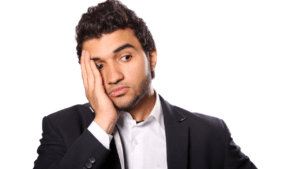 I spent quite some time thinking about these questions and I was determined to get to the answers.
4. Open Up Your Mind
This reflection on these questions carried on when I went home from work. They were constantly in my thoughts. So, I asked my Dad what he thought. Straight away he said, "You are being close minded Tom. You're rejecting things from people because you are seeing things very narrowly. You need to be more open minded."
That was it. My Dad was so right. I was behaving in a very close minded manner. The same way a low performing leader behaves. It was like I was competing with my other teammates on who shows the most strength.
If I was the most autonomous out of everyone, then I would think I was the strongest member of the team. When actually, I was the weakest by not working together with my teammates.
I had gotten to the bottom of it, I was being close minded. I decided then that I would be open minded in the future and always include my teammates. Especially when it came to making decisions or coming to solutions to problems.
Being close minded to your teammates gives them a very negative impression, even if you think you're being positive. Not listening to other people's ideas because you don't think you need them is also very negative, and can actually create distrust within the team, which was caused by you.
So, we must be open minded if we want to continue building relationships.
What I had done was a huge mistake on my part, and I needed to admit that to the team. I needed to stop giving people the impression that I was a negative person too. So, being open minded was one thing, but I had to turn it around that when somebody approached me, I came across in a positive way.
I figured out how I could do that, by accepting help, listening to ideas, and sharing my own with the whole team. It all comes down to sharing with your team.
A team of brains is better than one brain. So keep that in mind when you are at your next team meeting.
Learning from mistakes is the only way you will become successful, no matter what it is you are doing.
I welcome hearing how this post has influenced the way you think, the way you lead, or the results you have achieved because of what you've learned in it. Please feel free to share your thoughts with me by commenting below.
Check out my other articles by Clicking HERE
All the best,