Passion is what comes across when you set your vision.
If you don't show passion when you are casting your vision to your people, they won't believe you. If you show them that the vision you are describing is your dream, then they will believe you and follow you.
The best leaders in the world (highly effective leaders) know that leadership is about helping others reach their full potential. They also know that is also about them reaching their own potential too. Do you know how to help your team, and help yourself to reach your full potential?
1. Reaching Our Full Potential
Part of a highly effective leader's purpose is to help their people reach their full potential, and achieve amazing results because of it.
A highly effective leader's passion is to continuously learn new leadership principles, apply these principles and act on them, and then teach these principles to their people so that they can do the same.
By doing this they are increasing their influence and building trust.
Following my micro-managing of my team in Siemens that we discussed in my article "Leadership vs. Management", I wanted to ensure that I stayed on top of my leadership learning. I had slipped with my team, and I had let myself go into management mode of people instead of leadership mode.
So, I started reading leadership books every day. I still do today, even if it's just for 30 minutes. This is part of how I work on myself. As you are now by reading my articles. There is no end to learning about leadership which is what I love about it. That's why it is a lifelong journey.
The first leadership book I picked up was the 21 irrefutable laws of leadership by John Maxwell. I had watched videos and listened to audios of John Maxwell beforehand, and he was constantly talking about teaching. He said that when we learn new leadership principles, we should teach them to our people.
So, I did. I started teaching what I learned to my team, and other teams within my engineering depot. But Siemens is a huge, worldwide conglomerate and I wanted to increase my influence with as many Siemens people as possible.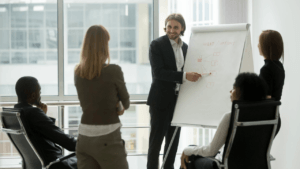 Siemens has an internal social networking site (much like Facebook), and they also have their own video platform (much like YouTube). So I started to create my own videos based on the 21 irrefutable laws of leadership, and uploading them to the Siemens social network.
A lot of people enjoyed them and learned from them. I loved this so the more leadership books I read, the more videos I created.
I am a lifetime student of leadership, personal growth, and influence. By being a student, and constantly learning gives me the capacity to constantly teach and create my own resources, hence this website.
2. Sharing Our Knowledge With Our People
The leadership principles you are learning here must be applied with your people, and then be taught to your people. The other leadership books, courses, videos, or any other leadership content you consume, you must do the same too.
That is how we keep the leadership legacy going. That is how you build your own legacy too. Being remembered as the person who improved people's lives through leadership is an amazing legacy to have.
When teaching your people about leadership, it is up to you what you decide to teach them. It's likely that your people have never been taught leadership before, so everything will be brand new to them.
That is what makes teaching leadership exciting, you can make this material your own, but only after you have learned and applied it yourself.
When we are teaching our people, we are showing them that we care about them and that we respect them. We are putting in the extra time and effort to help them improve themselves, and get closer to reaching their full potential. But, before you start teaching any material, we must set our vision with the team.
3. Setting Our Vision
What are you and the team striving for by you teaching, and them learning about leadership? What is the common goal that you want to achieve? That must come from you.
My vision when teaching any of my people, and my vision when writing articles or creating other materials is to create highly effective leaders, who will then go on to create more highly effective leaders. My vision is like a snowball effect. That is how I want to increase my influence and leave my legacy.
It will take some time to become the most effective leadership teacher to your team you can be, but as John Maxwell says, "Leadership is practiced daily, not in a day." Think of it like going to the gym.
Simon Sinek says, "If you go the gym and work out for 9 hours, you will not get into shape. However, if you work out for 20 minutes every day, you are guaranteed to get into shape, we just don't know when." So, don't give up on teaching your people because you will be letting them down.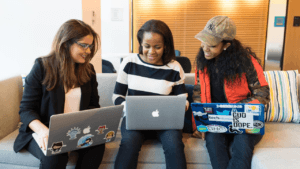 When you set your vision for the team, and what you want to achieve by teaching them how to be leaders, and apply leadership principles to their lives, they will be inspired to do everything they can to strive towards your vision.
It may be a vision that you may not ever achieve, but if you do this right, then your team will work their hardest to try to achieve it. That's why having a vision is very powerful. It brings people together, and is something that is common between the whole team. Your vision eventually becomes their vision.
For example, when I began creating videos for Siemens and teaching my team what I had learned, the vision I set for them was simple. I wanted them to become leaders, not just engineers. I wanted them to take what they had learned and teach other Siemens people too.
4. Going Beyond Our Vision
I didn't want my teaching to stop with them, or my videos, or that I was the only person doing the teaching. I wanted to inspire everybody to learn about leadership, and then pass on what they have learned. That vision to me is beautiful. Creating a world of highly effective leaders is who I am.
I really hope you understand my vision, and my purpose, and I need you to make it part of your purpose and vision too. Commit to passing on what you learn in leadership. Commit to teaching your people, so that they can teach their people. Not just in the work place, but with their family, friends, and anybody else they know.
Do it through teaching face to face, videos, books, or any other resources that you can create yourself. Imagine a world full of highly effective leaders. Imagine having highly effective leaders as our world leaders who think like you and I do.
To me that is a beautiful world to live in. What do you think?
When setting your vision, what does it look like? Can you see it? Do you believe it? If you cannot, then your vision is fake. It is just words. You have to be able to see your vision. That is why it is called VISION.
You must be passionate about it, think about it all the time, and show your team the vision and the dream before they buy-in.
I welcome hearing how this post has influenced the way you think, the way you lead, or the results you have achieved because of what you've learned in it. Please feel free to share your thoughts with me by commenting below.
Check out my other articles by Clicking HERE
All the best,