Applying the knowledge you have to get results shows how hard you have worked to know the subject.
When I started my career, terms like management and leadership were thrown about and a lot of people thought and still think that it's all just common sense. When it comes to human beings, we all should be naturally born with the skills to be able to manage or lead a team of human beings.
But that is far from the truth, if you're a parent and you are reading this, I bet you agree that it is difficult to lead your children. No matter what age they are.
1. Leadership Is A Skill
Leadership is definitely a skill that must be learned and practiced if you want to improve your life and have a successful career, especially when involving others. We all know that to improve our lives, we need to change something, which seems like common sense.
That could be to add something to our lives, or to remove something from our lives. It's common sense, but the problem is we don't do it and we need to find out the reason why.
Don't get me wrong, we do need common sense as part of our leadership and on the pathway to a successful life and career. However, we need to take action on our knowledge and common sense to get results. For example, I know that I need to lose weight.
I also know how to lose weight, which is eat a balanced diet, don't consume too much alcohol and get plenty of exercise. But, at the minute I am not doing those things and I need to find out why.
Like me, you probably think what I've just discussed is common sense and everyone knows it.
No matter how much you know, you don't know it all. No matter how much you understand, you don't understand it all.
2. Leadership Needs Common Sense
But, even though it is common sense to do things like "lose weight", it is not common that everyone does what is common sense. Why is that? We need to find out.
In order for us to find out why we don't commonly practice what we know as common sense, we need to think differently. We need to improve on how and what we think, basically we need to change our mindset.
Whenever I was in a leadership role throughout my career, and I used or discussed a certain leadership principle (for example, servanthood), the team knew I was portraying common sense. However, servanthood is not a common leadership principle carried out in the workplace.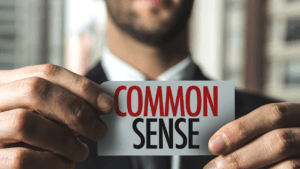 It is common for "leaders" to think that they are the ones who should be served, but that is another matter.
We need to understand why what we know to be common sense it not what is commonly acted upon or carried out.
3. What Is Common Sense?
The meaning of common sense:
"The basic level of practical knowledge and judgement that we all need to help us live in a reasonable and safe way"
The statement above is taken from the Cambridge dictionary, and what we're reading is a noun which doesn't lead us to take action on it. People get mistaken that when we say something is common sense, they expect a certain action from a person.
When all common sense is, an understanding of something, not a direction or an action to do something.
This is why we need to change our mindset when it comes to understanding something and taking action on something.
When you think something is common sense, take a minute and think about what your next action should be, now that you understand what common sense is. Don't just leave it as an understanding, take the next step by taking action on that understanding.
It is common to know and understand something. It is uncommon to apply what you know and understand to get great results.
Let me give you an example of what I mean:
If you want to improve your career and become more in life, then we have to work on ourselves and spend time and money on our own personal development and personal growth.
We all know that to be common sense, don't we? Of course we do. We know that to be better at anything in life, then we need to get better. This is also known to be common sense.
4. What Is Leadership?
How often do you work on your own personal development and personal growth? While you are reading this article, you are actually working on your development and leadership. How many leadership books have you read?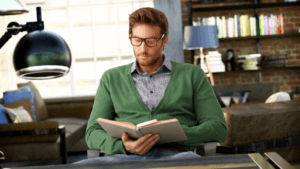 What is leadership? To have leadership, you have influence. The more people you influence at work or at home, the more options you have.
If you want to improve your chances at a promotion in work, then increase your influence. If you want to improve your work environment for yourself and your teammates, then increase your influence.
How much do you invest in yourself to increase your influence and your personal growth?
It's all well and good saying to improve our circumstances then we must increase our influence. We must TAKE ACTION on what we say. If we work on ourselves and our personal development deliberately then we will see positive changes in ourselves. We just have to DO IT.
What is it you spend most of your money on at present? Holidays? Partying? Shopping? Hanging out with friends? These things are not bad to spend our money on. However, if we want to work on our personal growth then we do have to make sacrifices and invest our time and money into our growth.
We know this as common sense, so we understand that investing our time and money into ourselves is the only way we can grow. However, to take action and do it requires more than just understanding it as common sense. By now, I'm sure you know what I am talking about.
The reason I seem to be forcing the common sense issue is so you realise, that to apply what you learn will require a lot more than just understanding what you have read, in other words common sense.
If you want to achieve great results in your leadership and your life then you must TAKE ACTION on what you learn and understand. Don't read and then move on. Read, make notes and plan how you will implement what you have learned.
It is easy to understand what is in my articles, but not so easy to implement and take action. It requires a lot more effort and deep thought. Think of the impact that taking action will have on yours, your team and your family and friends lives.
I think you can do this, you know you can do this, but the question is "Will you do it?"
It is up to you!
As a leader, you don't have to know it all. What you do need to know is who in the team has the knowledge you need, and how best to leverage that knowledge for the good of the team.
I welcome hearing how this post has influenced the way you think, the way you lead, or the results you have achieved because of what you've learned in it. Please feel free to share your thoughts with me by commenting below.
Check out my other articles by Clicking HERE
All the best,