It is always good to plan action. But it is far, far better to take action
When we discuss being deliberate and being disciplined, these are very similar traits. However, when we break them down, it can be determined that they are actually different traits. When we are being disciplined, we are committing to taking action on something that will benefit ourselves, and will benefit others.
When we are being deliberate, we are committing to taking action so that we can achieve a specific goal, or objective.
1. Having A Common Goal
Part of everybody's role when I worked for the train operating company in Liverpool, was to help improve the performance of the trains when they were in service. That was the philosophy throughout the company, not just for the engineering department where I worked.
In 2008, a new asset management strategy was to be implemented by the engineering director and his team. I wanted to be part of his team so I was one of the first engineers to volunteer. This was an excellent opportunity for me to be very deliberate in the area of my personal growth, so this was my focus.
If I was to work on myself, and help the team, then I had to make a huge commitment that would require a great amount of discipline. You will learn as you continue to read, the traits that are required when it comes to making this commitment and keeping disciplined.
The team and I were taking on a huge challenge, probably the biggest challenge any of us had faced in our careers so far.
As I was one of the first to volunteer, I was chosen to lead some of the activities that would form part of the asset management strategy. The duration of the strategy was a two year process, so it was a huge commitment from everybody.
2. Making A Commitment
I made the commitment to my engineering director and to the other leaders that I would take action every day. This required me to be deliberate with the specific actions I took, every single day. My leadership skills required improvement so I was reading leadership books, and materials every day.
I still do to this day. I had little experience in asset management, so I read books on asset management strategies. I had to keep disciplined when it came to my reading. I made sure I wouldn't procrastinate or cut corners in any way. I made the commitment, so I needed to follow through.
When I started leading some of the activities as part of the asset management strategy, the teams knew that I didn't have a lot of leadership experience. So, they played on that quite a lot to begin with. However, it my job to change how they thought about my abilities.
For me to do that, I had to build trust and build relationships with the team. If I was to build trust then I would have to be deliberate, and know the process inside out. I had to know the activities and what was required better than anyone else.
3. Making Sacrifices
So that's what I did. I made the sacrifices to learn as much as I could, and become very knowledgeable. I had to know and understand the requirements of the team, so we could work together to achieve the desired results. As a team, that is exactly what we did.
From 2008 to 2009 the asset management team as a whole achieved an improvement in train performance of 40%. We were very proud. We also seen an improvement in our own engineering department's performance. In the end we achieved great things as a team, and we were recognised for it.
As with most teams, we didn't just have highly effective leaders. We had low performing leaders too. Can you guess what they focussed most of their energy on? Let's just say that if we had followed their advice when we started out, then we would not have achieved anything.
In fact the performance of the whole department, including the trains would have decreased. They would constantly be telling me that the asset management strategy was a bad idea. That I didn't have enough experience to help lead the activities.
They wondered, "Why we needed to change things when we were already "doing ok?" Well, I didn't want to just do ok, and neither did the rest of the team. We wanted to achieve amazing things, and have an amazing time while doing it.
Thankfully, nobody listened to the low performing leaders, especially the highly effective leaders. Whatever the low performing leaders were trying to sell, nobody was buying from them.
4. Be Deliberate In Taking Action
The team instead decided to take responsibility for what we were trying to achieve, and we all became deliberate in TAKING ACTION to make things happen. The improvement of 40% in performance of the trains in service resonated throughout the whole business.
Our engineering department was growing in performance and we were growing in size because of our achievements.
Unfortunately when a new strategy is being introduced in any business, there always seems to be an "us and them" within the teams. Throughout my career, I have seen this so often. The "us" side of the team are the highly effective leaders, and the "them" side of the team are the low performing leaders.
The high performing leaders are the people who support the new strategy. They want to share the vision, and the mission that the leader has set. The low performing leaders are the people who don't support the new strategy. They want to do the exact opposite to the leader's vision and mission.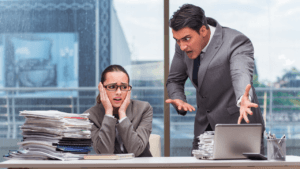 I have yet to be part of an organisation where everybody within the team are all pulling in the right direction. Maybe you can be the first to make this happen in your organisation.
If there are any process improvements, or new strategies about to be implemented within your organisation, then make sure you are part of it. Volunteer and make the same commitment to lead part of the activities for your team.
When you do that, you are proving to the leaders that you have a positive attitude about the new process improvement. You will also be taking responsibility, and being deliberate by taking action.
When I decided to be part of the asset management strategy I discussed earlier, I could feel my mindset changing. I was a lot more positive, and could feel myself becoming a highly effective leader.
I found it easier to focus on what I and the team were striving to achieve. Before I volunteered, I felt like I was doing the same thing each day and going through the motions. I was not being deliberate, every day. But now, I had a new purpose, and I became a lot more deliberate.
The team and I were becoming a lot more productive, and we started doing things that would save time in our areas of work. When somebody had a new idea, we would embrace it and try it out. If it didn't work then we would move on, if it did then we would continue with it.
There was no more discarding of ideas before we even tried it out. This made the team and I a lot happier. When we had our team meetings, they became very efficient because everyone knew what everyone else was doing. We were working as highly effective leaders, and the low performing leaders were missing out.
It's amazing to think what it would be like if everybody in your organisation, and everybody in the organisation's I've worked in previously had the same kind of attitude, and was deliberate. Who knows what we all could achieve?
What if our countries leaders had the same attitudes and ways of thinking? Our world would be in a much better place. Being deliberate is a pretty easy concept in order for us to take action on things. It is up to you to lead your team, and your organisation through this.
So, BE DELIBERATE and TAKE ACTION.
You may not have all the answers, but don't let that stop you. Make the most of what you have, and don't give up.
I welcome hearing how this post has influenced the way you think, the way you lead, or the results you have achieved because of what you've learned in it. Please feel free to share your thoughts with me by commenting below.
Check out my other articles by Clicking HERE
All the best,