You do not always have to be on the higher ground to be great.
When a highly effective leader takes over a new team, the first thing he/she wants to know is, who the team are. They are not interested in what they do initially. They want to get inside the minds of every single individual on the team, and learn about them as a person.
The first meeting they have with the team is not about him/herself, it is about the new team he/she has just taken over. The highly effective leader will ask the team a lot of relationship type questions. By doing this, they and the rest of the team can learn things about each other that they didn't already know.
1. It's All About Humility
The team are also invited to ask questions of the leader, so that they can learn about him/her in the same way. This is all about humility, which is one of the great traits of a highly effective leader. It is not about results, or the job.
Humility is not a trait of a low performing leader. If you ask a low performing leader what humility is, they might struggle to give you the correct answer. Especially the low performing leaders I've worked with in the past.
In my experience, when a new low performing leader took over a team that I was part of (and there have been quite a few), their initial meeting with us was all about them. One leader actually gave us a presentation that was all about himself, and how he got to where he was.
He didn't ask us about who we were or our careers. My first impression of a low performing leader is, they are very arrogant, they have a huge ego, and they have a lot of pride in themselves. That then leaves no room to have pride in others, especially their team.
We were treated as numbers, instead of people. It is very uncomfortable to be around them. Whenever they are asked a difficult question, they will avoid it like the plague. Their communication skills are very low, and they are not clear of their intentions (as we discussed previously).
2. Communicating With Confidence
Highly effective leaders ooze confidence, and low performing leader's reek of arrogance. The difference between arrogance and confidence is very tiny.
Highly effective leaders know these differences well, and they know how to stay on the right side of confidence. Low performing leaders don't know these differences, hence they come across as arrogant.
When low performing leaders try to communicate with their team, what they are actually doing is not communicating. They are telling. Communication is a two way street. Telling is a one way street, very much like dictatorship.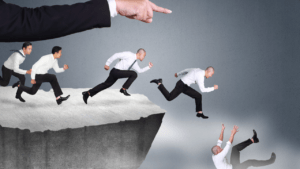 Highly effective leaders are excellent communicators, but they can also go beyond communication and connect with their people. They connect deliberately because they know that connection doubles communication.
To motivate our people, we need to communicate with them. Motivation is external, and when we motivate people we are talking to the person's thoughts, or their conscious awareness.
It is our words that they listen to that could change their behaviour is some way. Communication and motivation can only be done externally to the person or people.
3. Moving Beyond Communication
To inspire our people, we need to connect with them. Inspiration is internal, and when we inspire people we are talking to the person's feelings, or their sub-conscious awareness. How we make our people feel from what we do, not just what we say.
We can inspire people from the tone of our voices, our body language, but most of all from our actions. Connection and inspiration can only be done internally to the person or people.
Everyone throughout the world can communicate, even low performing leaders if they choose to. When we communicate however, it doesn't necessarily mean we are building trust or building a relationship with a person.
There are different types of communication. But, to communicate all we have to do is share the information we have with another person. When we do that, we have officially communicated.
Not a lot of people throughout the world can connect with others. Highly effective leaders know how to connect with their people because they learn how to do it beforehand. They study connecting with people, then they practice connecting with people until they can do it effortlessly.
Connecting with people is how you make a person feel good, or positive. It is about feelings. When we deliberately connect with a person, we are building a relationship with them. What do we build, when we build a relationship? Trust. A highly effective leader will connect with their people every day.
I have worked with a lot of low performing leaders who "tell" us what to do. Unfortunately I have only worked with a few highly effective leaders who "inspired" us to do the right thing. I want to create more highly effective leaders who can inspire more people, and hopefully one day outweigh the low performing leaders.
4. Gaining Your Team's Buy-In
When a highly effective leader inspires their team, it is very easy for them to get the team's buy-in to new changes or new ideas. They trust their leader, and they follow him/her because they want to.
Low performing leaders find it very difficult to get their team's buy-in because they don't trust their leader, and they don't follow him/her. When this happens, the team become impossible to work with. I have experienced this first hand on many occasions.
A lot of low performing leaders are actually in the leadership role because they were forced into it, or nobody else could take up the role.
This too is unfortunate because you have a person who is supposed to lead and inspire a team, when they don't want to. That is a recipe for disaster. Nobody should ever be forced into leading a team. It will never work.
I speak a lot about having respect for your people. When forcing one of your people into leading another team, when they don't want to is not showing them respect.
Not giving them a choice is manipulation, and can actually come across as a threat. You MUST find a person who wants to lead a team, who wants to motivate people, who wants to inspire people. Someone who wants to help others and help you too.
A highly effective leader will always show respect to their people. They do not want their people to ever think that he/she doesn't respect them. So, to avoid this they will never force one of their people into doing something that they don't want to do. Especially leading a team.
Leading a team is a huge commitment, and is very difficult. It is something you must want to do, and must never be something you have to do. Much like following a leader. Following a leader must be something you want to do, not something you have to do.
When I wanted to take over my first team, and I thought I was ready, I was living in Liverpool. It was 2011, and I went to my engineering director Kevin and discussed it with him. I had a strong relationship with Kevin, and he had helped me to develop and didn't force me into taking up any kind of role that I wasn't ready for.
He had helped me build up my confidence, and he inspired me. In other words he connected with me. He went beyond communication and connected with me, as he did with many others, and still does to this day.
Forcing people to do things is not how you inspire people. Connecting with people is how you inspire them. When connecting with a person, you must make it about them. You must listen to them well. Let them do most of the talking, and you do most of the listening.
When you listen to the person they feel cared for, when they feel cared for they feel inspired, when you inspire them your influence will increase.
Connecting with a person is a great opportunity for you to learn from them, and about them. How do you do that? You listen to them. Interrupting them, or deliberately cutting them off will break that connection. Control yourself and you will connect with your people.
I welcome hearing how this post has influenced the way you think, the way you lead, or the results you have achieved because of what you've learned in it. Please feel free to share your thoughts with me by commenting below.
Check out my other articles by Clicking HERE
All the best,