How often do you work on yourself to develop your leadership and personal growth? Do you do more than is expected? Do you do more than you are paid for? If you do, then you are well on your way to becoming a highly effective leader.
As an engineer and then developing into an engineering leader from 1999 to 2009, most of the work I did on myself happened when I was at work. Or, in other words, most of my personal development happened when I was being paid to do it.
That is the case with a lot of developing engineers/managers in my industry. It is probably the same in yours. It wasn't until 2011 when I moved to Scotland to become an engineering production manager, that I actually started working on myself outside of work time.
1. Work On Yourself With Purpose
Highly effective leaders work on themselves with purpose, and they purposefully do it both inside of work and outside of work. They work on their leadership development and personal growth, and they do this every day so it becomes a habit.
I have personal experience that making it a habit to work on your leadership development and personal growth daily, can be amazing for your life and career. That is what I want to help you and many others do, so you can become highly effective leaders.
It wasn't until I started to work on myself with purpose that I discovered my passion for leadership development and personal growth. I could feel myself getting better as a leader, and I could see the teams I was leading getting better too.
I was reading leadership books and sharing what I had learned. When I worked for Siemens in 2015, I put together leadership videos that I would upload onto the Siemens social network (they are still there today). When I did this I received a lot of messages from people all over the world thanking me.
I even received an award for doing it. Nobody had asked me to make the videos, I was just so passionate about the subject and I wanted to help people.
The more videos I made, the more people I helped, and the more people I helped, the more videos I made. It was helping people that was my real passion. That it when I learned: leadership starts with me, but it is not about me. It is about others, and helping others.
2. Leadership Starts With You
Throughout my career, I received lots of "leadership training", but the training seemed to be more about the business we were working for, rather than the people we worked with. I was never taught that leadership starts with us, but it was about others.
I was never taught that leadership was about serving others, and not the other way around. I was never taught that leadership is influence, and nothing else.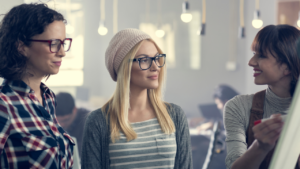 I found out that leadership is about others, about serving others, and that leadership is influence when I worked on myself and did my own leadership development.
My own discoveries about leadership and personal growth, and sharing them with the teams I led in my career is the reason I have written other articles on these topics.
I want to share my knowledge on a broader scale and influence as many people as possible. I want to help you discover your very own leadership and personal growth path, and set you on your journey.
You couldn't imagine just how much content is already available to you that will help you with your leadership development and personal growth.
But, because most people only focus on their personal development during work time, they do not make the discovery of this content for themselves. The content they are mainly exposed to is what their companies supply to them. In my experience this content is not focussed on the right things. I want to help change that.
It wasn't until 2009 when I worked in Liverpool for their train operator that the engineering team received any kind of leadership training. As I have said earlier, it wasn't the best training but at least it was something.
Before 2009, the leaders I reported into hadn't received any kind of training. They were just doing the best job they could to lead/manage us. Most of the time they did a great job, and they became good through learning from their own mistakes.
The training we started to receive in 2009 focussed on how to get the best results for the train operator. It was a three day away day in a hotel and I think we focussed on people for half a day. The rest of the time we focussed on trains, and how we could reduce delays in service.
3. Focus On The Right Things
When really we should have focussed on trains for half a day, and the rest of the time focussing on our people. But, we didn't know what we didn't know, and I didn't know what I know now.
Organisations who provide leadership development to their employees must include personal growth, and teach exactly what leadership is all about….others.
But, that doesn't mean that you just rely on your organisation's leadership development training. In fact, far from it. You must work on yourself every day with purpose. When working on yourself, focus in the areas of leadership development and personal growth.
The material and content that is at your fingertips are: leadership books, leadership blogs, leadership you tube videos, and lots more. Whatever platform you prefer to consume this content is up to you. Just make yourself a promise that you will do it, as this really matters.
Whatever industry you currently work in, or want to move into in the future, the leadership principles are all the same. What you should be learning are the leadership techniques that will help you no matter what circumstance or situation you are in.
A lot of people only focus on and practice principles that will only help them in one certain circumstance. We need to realise that leadership is not text book, it is a timeless principle and there are many of them. Leadership is difficult and cannot be learned overnight. It is a lifelong journey of constant learning.
When I started to work on my leadership development and learning the different leadership principles, I thought to myself that a lot of the principles wouldn't work in my team, or my industry. The reason for that was because I had not yet been in a situation where this principle was required.
4. Keep Learning Every Day
So, I didn't learn about it. For example, when I was first confronted by one of my team members for the way I spoke to them in 2011. I didn't know how to handle the confrontation, which was totally justified by the way.
So, I confronted him back and changed the subject to the work he had done that day and that I was disappointed in him.
This was totally the wrong thing to do on my behalf. I made one of my team feel even worse, and caused even more stress for him. It was my role to help him, not hurt him.
The principle I should have used was: listening. I should have listened to what was on his mind, if I agreed then I should have apologised and worked out how to move forward in a win-win for both of us.
From then on, I vowed to myself that I would constantly learn about all leadership principles. This is lifelong learning and there is no way I will become an expert in all of them. But, I know how to handle almost every situation a lot better than I could.
My recommendation to you is to read at least thirty minutes a day (an hour really) on leadership development. Or watch leadership videos that last up to thirty minutes (an hour really). Do this every day and you will be so thankful you did it, trust me.
What you are doing is investing time every day in yourself. Investing in yourself requires discipline and sacrifice. Do you have the discipline, and what are you willing to sacrifice?
Remember, work on yourself with purpose.
Nobody in this world is a "natural born leader." I truly believe that everybody is born with the potential to become a highly effective leader.
The people who become highly effective leaders, do so because they work on themselves every day, and develop the potential they were born with. The low performing leaders, or the people who do not want to become leaders do not work on themselves. So, therefore their potential is wasted. It is your decision.
Do you want to become a highly effective leader, help others to develop their potential and follow you, or do you want to stay where you are right now?
I welcome hearing how this post has influenced the way you think, the way you lead, or the results you have achieved because of what you've learned in it. Please feel free to share your thoughts with me by commenting below.
Check out my other articles by Clicking HERE
All the best,