Do you want your costs to go decrease, then you must increase your trust, strengthen your relationships and increase your influence with your people.
Since I was 16 years old and I started my first ever job as a mechanical engineering apprentice in 1999, all the way through to today, I have worked in different industries. I have also worked in different countries with different cultures and different people.
During these times I have learned a lot about engineering, but most of all I learned about leadership and people. Since I took my first leadership role in 2009, I have worked on myself every day and learned something about leadership.
1. The Importance Of A Team
Being part of a team, I learned that all I wanted was a leader who cared for me and my teammates. Being in charge of a team, I learned that all I wanted were team members who cared for each other.
There were too many occasions when I would be the leader of a team, but I was very unhappy. The reason for that was because my team members were not doing what they were told. In other words, I was telling them what to do without considering any of their input, and they didn't like it so they disengaged.
In the end, one or two members of this particular team left because they were unhappy. At the time I thought it was because they didn't like the job, but now I know for certain it was because of me.
Having an engaged team that wants to work for each other, which includes the leader is how productivity and results increase. When productivity and results increase, we have a positive team, we have a positive organisation, and we have happy leaders.
If we don't have increased productivity, results and a positive organisation then the leaders are unhappy, and they will then face serious problems.
With unhappy leaders, their level of engagement with the organisation and with each other will decrease. Then, inevitably as the leader's engagement decreases, the team's engagement below will also decrease.
What I have found is that team members are far more productive when they want to follow their leader. They are far less productive if they have to follow their leader. I know that there has been research done on this issue and found the same outcome.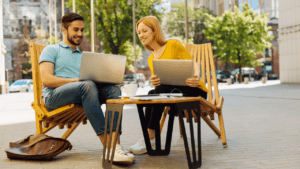 There are far too many leaders who manage people and don't lead people. If there were the right leadership development in place for all leaders within the organisation then teamwork, morale, productivity, customer service, engagement and employee turnover would all be improved.
2. Leadership Development
The right leadership development would also include focussing on the non-leaders too. If we want to develop our people into leaders, then we need to develop them before they take up the position of leader.
When leaders lead their people, they are far more engaged and want to be part of the team and the organisation.
When leaders manage their people, they become far more dis-engaged and will only give the bare minimum required to get the job done and make it until the end of the day.
To transform the culture of your team and your organisation, then leadership development is the foundation to build that transformation on. When transforming the culture, we are also reducing costs to the organisation and improving your team's results.
Within your industry, do you find that there are other businesses who want to steal your people aswell as stealing your customers? Having worked in the rail industry since 2005, I have seen this happen a lot more.
When working as part of a consultancy and doing work with the London Company, they "stole" a few of my project team members. It wasn't a nice feeling to think that we were not giving them what they wanted/needed, so they went elsewhere.
If you have team members that are not happy then they are going to be disengaged, and if we can't make them happier and more engaged then they are going to leave and find another job.
I know people who have even found a different industry because they were so unhappy. For the organisation to be successful, then it is the leader's role to attract and retain people who are happy and high performers.
Leadership development is how we will help our people to be happier. By helping our people to become happy to work for the organisation and for our team, it will prevent them from leaving. With a happy team and reduction in turnover, the organisation will see improvements in results.
3. Being Part Of An Organisation
Highly effective leaders want to be part of an organisation that people want to join. They want to be part of a highly effective organisation and highly effective team. Highly effective organisations and teams are the leaders of their industry. All highly effective leaders are leaders in their industry, not just their organisation.
Team members of a highly effective organisation are not looking for a highly paid job, they are looking for opportunities grow and develop. They want to become successful in both their personal and professional lives.
With leadership development opportunities before they actually take up a leadership role can only be beneficial to the team member, the leader, the team and the organisation. That is how we create a highly effective organisation.
Generally when managers interview new team members, they focus on their abilities to perform the job. They want to know what knowledge they have and if they have the required skills that meet the job description. The interviews are 100% competency based and that is how they fill their vacancies within the team.
When it comes to firing a member of the team, managers focus on a completely different area. They focus on the person's character. Usually, when people are fired it's because they are behaving in a way that is disrupting the performance of the team.
4. Character Development
Or, they are not fulfilling their duties as a member of the team and results are being affected. Or, they have a poor attitude towards the team and the leader and they are unbearable to work with. These are all character based and are the main reasons why a person would be fired.
In most organisations throughout the world, their training and development programs are focussed mainly on improving competency and not character. However, when a person has performance issues it mainly due to their character, not their competency.
In fact, most of our results as an organisation, a team and as an individual are down to our character, not our competency. But, when we hire people, we hire them because of what they know (competency) and we fire them for who they are (character).
At the moment within your team, are your people happy? Do they come into work every morning feeling fully engaged and ready to give 100% of their best for the day?
If they are not and your team are feeling worried, confused, frustrated and resistant towards you or the organisation, then I want to let you know that you can do something about it. It doesn't have to be and won't be like that forever. You can change this and I believe you will change it.
If you focus on the numbers, costs, business growth, bottom line and organisational performance then you are neglecting your people. If you focus on your people then the numbers, costs, business growth, bottom line and organisational performance will take care of themselves. Where is your focus?
I welcome hearing how this post has influenced the way you think, the way you lead, or the results you have achieved because of what you've learned in it. Please feel free to share your thoughts with me by commenting below.
Check out my other articles by Clicking HERE
All the best,