Leaders are readers and leaders are learners. You are never too old to keep learning something new.
If you want to evolve in your career and grow into a leader, then you cannot continue to do the same things day in and day out. I wrote this article for the person who wants to increase their influence and have a positive impact with their team and beyond.
I'm guessing that the reason you are reading this article is because you want to become more in life, have a successful career and help others along the way.
1. What Are Your Goals?
If this is you, then what are your goals? Is your goal to wake up every morning uninspired, go to work and do your best to do as little as possible and have a negative impact on your team…every day?
Or, is your goal to wake up every morning feeling inspired and happy, go to work and make a huge, positive impact for your team…EVERY DAY?
In your favourite sports team, who does the coach choose as the captain? Does he choose the best individual player? Or, does he choose the player with the most influence and helps others perform better?
When I was a kid, I played a lot of European style football (soccer). I loved it so much that I would play for a number of teams at the same time, and I would also play with my friends in the street. But, the worst part about playing in the street was when it came to picking the teams at the beginning.
Who picked the teams? The two kids with the most influence on the group (very rarely me). Who did they pick first? They chose the kids that were the best players, but also would help the team win (very rarely me).
Think of your team at work. Other than your leader, who has the biggest positive influence? If it isn't you, then you need to change to increase your influence and your impact on the team. How do you do that? You MAKE A DIFFERENCE, EVERY DAY!
In the position you are currently in, how do you make a difference, every day? I try to help at least one person on my team every day. Whether that be with a technical issue, personal issue or to teach them something new that will help them in the future.
2. Are You Adding Value?
Basically, I am ADDING VALUE to at least one person every day. The more I do this, the more people I will influence, and one person will become two people, then three people and so on. By adding this value will make me more valuable.
Being valuable to your team and beyond is what you should focus on. The more valuable you are, the more successful you will be. Not the other way around.
There are a lot of ambitious people in the world who want to "climb the ladder" in their career, which is a great thing for themselves, their organisation and their industry. However, in my experience I have seen people take on bigger roles far too early. I was one of those people.
I took on an engineering production manager role in Scotland when I was 28, and when I was on shift I was in charge of up to 30 people. The job almost broke me because I had not had the right development. Before taking on bigger roles, we need to ensure we have had the right development.
But also, we need to have mastered the level we are currently at. If it means taking longer to develop, then so be it. Being ready for the next step is more important than taking the next step.
A lot of leadership expert's talk about starting something new, with the end in mind. This is so true. Since I heard about this principle, I have applied it to everything I do. Whether if that is at work or at home. If you don't know where you're going, then how are you going to get there?
When I started reading about leadership in 2009 I have always asked myself that question "If you don't know where you're going, then how are you going to get there?" So, by starting with the end in mind, you can plan and strive to reach the end.
3. What Do you Want To Achieve In Your Life?
That is how I've known what my next role in my career was going to be, or what I wanted to achieve in my personal life. I've always known that I wanted to create a business, but what kind and how? When I sat down to think about what to do, I thought of my two main passions in life, leadership and helping people.
So the end in my mind for my business was helping you to become a leader. Having that end in mind enabled me to plan what I wanted to write.
We are all at a certain place in our lives and our career, and a lot of us want to move to a better place in both. Do you know where that place is for you? Do you know how to get there?
If you don't know where that next better place is for you yet, then take a bit of time to figure out the following:
Who are you?
Where are you?
Who do you want to become?
Where do you want to be?
By answering these four questions as well as you can will reveal to you, where you are now in your life and career and where you want to be. By knowing these two things will help you map out the path to your success.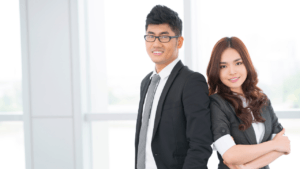 A question that I like to ask myself, that I know will definitely help you and you SHOULD ADOPT is:
Am I moving in the right direction by taking this action?
I talk a lot about taking action, and asking yourself the question above will ensure you are taking the right action. There is no point in taking an action if it is not going to move you or your team or even your family in the right direction. So, you can get how important it is to ask yourself this question.
4. Are You Taking The Right Action?
You have to be strict with yourself when asking yourself this question. If the action you are taking is not moving you in the right direction, then DO NOT take it. If the action you are taking is moving you in the right direction then DO take it.
A lot of people, who know that taking the action will not move them in the right direction, still take the action anyway. I know a lot of people who have done that, I've even done it myself. When you take this action, you are taking a step backwards.
Then it becomes harder to get back onto the right path and the right direction. So my advice is, be as strict as possible with yourself when asking the question:
Am I moving in the right direction by taking this action?
The more you ask yourself this question both in your personal and professional life, the more you will grow and make changes to improve your future. There was a time when I asked this question of myself in 2011 and my answer would be DO NOT take the action.
However, now in 2019 I might ask the question for the same action and my answer is DO take the action. So this question can also help you evolve as a person and in your own personal growth.
Always remember, you are the most important person who will ever talk to you, so make sure you don't upset yourself. Ensure that you don't lie to yourself either.
Don't tell yourself that you will take action and then don't, because that can lead you in the wrong direction and instead of taking a step forward, you take a step backwards. So be careful with yourself.
The difference between a leader and a follower is; a leader works on themselves to constantly change and improve and a follower doesn't
I welcome hearing how this post has influenced the way you think, the way you lead, or the results you have achieved because of what you've learned in it. Please feel free to share your thoughts with me by commenting below.
Check out my other articles by Clicking HERE
All the best,