The more valuable you make your team, the more valuable they will make others.
As your influence increases with your team members, their influence will increase with each other and with other colleague's too. It is your role as a highly effective leader to give your team the freedom to be influencer.
As yours and your team's influence increases beyond your usual inner circle, you will find it a lot easier to find extra support to help you achieve your team's mission. You will also find it a lot easier to convince and gain buy-in from colleague's who are not in your team, or even in your department.
1. Spreading Your Influence Through Others
As your influence increases through your team, they will increase your influence cumulatively, a lot further than you could alone.
With your influence increasing cumulatively through your people, they will be connecting with others, and building strong relationships in the same way as you did with them.
As you prioritise personal growth and leadership development with your people, and you keep investing in their growth, yours and their influence will constantly becoming stronger. The more time you invest in your people, the bigger the benefit will be for both them and you. Investing creates a win-win situation for all.
The more people are influenced by you then your people will want to help you and your team. They will share the same vision as you, and will want to work with you to help you and your people strive to achieve it. As they are positively influenced they will feel the difference both in their professional life, and their personal life.
2. Positive Mindset
Their mindset will change and they will want to do everything they can to increase your influence too. Soon, all departments throughout your organisation will have been influenced by you.
This really sounds great, and in theory will be amazing when your influence can be increased cumulatively through your team, then others, and then others beyond them. But, how do we do this in practice, and continue to work every day to ensure this happens.
With leadership development, constantly teach your team principles that will help them to lead themselves and others. As you do this, you are setting them up to increase your influence through them. Then, as you are training them to lead others, teach them principles that go beyond the world of work.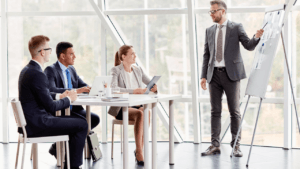 As you are beginning to be the best person you can be as a highly effective leader, by teaching your people to do the same, you will receive further support. They will increase their influence with you, and you can then leverage their influence in a positive way.
As you are investing time into your people, and going the extra mile for them with teaching them leadership and personal growth, you may receive some negativity from the low performing leaders in your organisation. I received quite a bit of negativity from low performing leaders, they thought I should be "focussing on the job".
They are managers, not leaders of people, and they focus on processes, not people. Do your best to avoid this negativity, and don't listen to it.
3. Investing In Your People
Whenever I talked to the low performing leaders about why I wanted to invest in my team's leadership development and personal growth, I used to receive some "interesting remarks". For example, "You're not a trainer, why are you training your team?"
Or, "You're not going to get the work done if you put the team first." I found these remarks to be very amusing because I knew that by putting the people first, the job would take care of itself. How can you get the work done anyway, if you have a de-motivated team?
Even though I ignore the remarks I receive from low performing leaders, I would try my best to explain to them the reasons why I invest in my people, and teach them leadership. It would be better for them and the organisation if more leaders followed me in investing in their people.
If we have more and more leaders teaching their team's leadership and personal growth, then imagine what kind of culture we would be creating. Imagine how far our influence could increase.
Low performing leaders only see things short term, but if we could convince them to change their mindset and think longer term, then our influence will compound.
The more people who follow us because they want, not because they have to, our influence will increase so far that we will be influencing people who we have never met. We can do that because the people who our people influence will be influenced by us too.
Thinking long term, and having your vision at the forefront of yours and your people's minds is what you need to focus on if we want to keep gaining buy-in from people.
For example, if I wanted help from an engineer who worked in a different team and had a different leader, it would depend on the relationship I had with his/her leader. As the engineer doesn't report to me, I wouldn't be able to go straight to them, I would have to ask permission.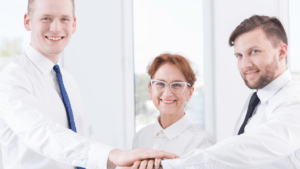 If I had a poor relationship with his/her leader, then they would probably say something like, "I don't have time to let my engineer do some work for you at the minute. Maybe in the near future."
By telling me that there is no time to let the engineer help me, is giving them a way out. There is always time to help each other, but because of the poor relationship, the leader is choosing not to help me.
I used to find this quite a lot when I took up my first leadership positions. I didn't dedicate time to building strong relationships in the beginning, so I didn't receive the co-operation I was looking for.
However, instead of just focussing on building relationships with leaders, I began to build strong relationships with engineers outside of my own team.
4. Building Stronger Relationships
I did this so that I could increase my influence further, and so they could increase my influence outside of my usual inner circle. So, when it came time to ask for the engineer to help me, I would find it a lot easier.
The reason I would find it easier is, the engineer was already influenced by me, so he/she would go their leader and gain their buy-in to supporting me and my team. The leader may not have been influenced directly by me, but their team member would use my influence to gain their buy-in.
Just as I had with them, and my own team members. Leveraging other people's influence is a great way to get the support you need from outside your usual inner circle.
When your team, and others in your organisation know your vision, follow your vision, and want to support you, you will find that they will offer you help even when you don't ask for it.
There is a saying, "It's who you know, not what you know." When it comes to increasing your influence far beyond yourself and your people, that saying could not be truer.
The more people you can influence, the better for you and for your people. As you influence others, listen to them. Embrace their ideas, lead them, and give them the freedom to influence. Allow yourself to be influenced by them.
I welcome hearing how this post has influenced the way you think, the way you lead, or the results you have achieved because of what you've learned in it. Please feel free to share your thoughts with me by commenting below.
Check out my other articles by Clicking HERE
All the best,