Leaders are there to show others the way. In your team, that should be your leader. But, a lot of the time it is not, so who else is going to show others the way? For you to grow in your leadership, then you need to lift others up and show them the way.
The CEO of the Scottish railways and the CEO of a London light railway system are both engineers by trade. They started out just like I did working as an inexperienced engineer. They are two of the most powerful leaders in the UK rail industry and are great people.
So you should take comfort in the knowledge that you don't have to be privileged to become more in life, you can start from anywhere and still become a highly effective leader.
I know them both and they are leaders that I have followed and would happily encourage others to follow. Without great people and great leaders, the world would be a very different place.
1. Leadership Starts With YOU!
The only thing stopping you from becoming one of those great people and a highly effective leader is you. There is only you who can TAKE ACTION! The only person who can learn from your failures and mistakes is you, so TAKE NOTICE!
Keep in mind, a mistake or a failure is not negative. If you LEARN from it then it is a positive next step towards your success. A lot of people have difficulty seeing mistakes and failures that way.
But, if you practice thinking this way and try to keep in this frame of mind for as long as possible, then learning from failure will become a lot easier.
You may not see yourself as a leader when you're in your current position at work, but believe me you can develop into a leader at any stage of your career. Even though you may not have any "direct reports" or the title of supervisor, team leader or manager, you are in a position to lead.
Developing yourself, working on yourself, and influencing and developing others is what leadership is all about. As a team member, you can help develop the other members of your team and influence them in a huge way.
2. What Does The Future Look Like?
The time is now for you to start thinking big and see a much bigger and brighter future for yourself. I am not saying that you need to go to university or take hundreds of training courses. People often use not having a degree, or a special qualification as an excuse to remain where they have always been throughout their lives.
I have a degree and if you really want one then by all means go for it, and use what you learn from my articles to help you get that degree. However, you can also use this website to build that brighter future for yourself without a degree.
Your PERSONAL GROWTH can only come from one person, you. Having that self-belief that you will make it work is an absolute must. Growing and developing yourself is imperative to build that bright future.
Reading this and my other articles is the start to developing yourself and growing. So, the next step is to take a chance on yourself.
Being a team member, what do you understand your role to be? When I was an engineer, I thought my role was to just get the work done for the day and go home, then do it all again the next day. That was a very narrow view of me and the other team members. I didn't realise that we had A LOT more to offer.
The leader we had was also very narrow minded and I had exactly the same view of him. In fact he needed more development than we did, as he was in a "leadership position".
Within most industries throughout the world, people are often given "leadership positions" or "titles" but have zero leadership training or development. How can they be a leader if they haven't had the right training?
3. We All Have The Ability To Lead
Team members and their managers can both learn from this article. At the end of the day, the environment is exactly the same for both and they are part of the same teams trying to support each other.
I focus on the team member in the main, however the ideas and skills I discuss can be learned from all levels of the team and the organisation.
I want to make it clear that this article is written for anyone. Whether you are a member of a team or in a leadership position, the principles I am sharing are relevant to all.
If you want to be recognised in your team, department, organisation and your industry as a LEADER, then what I share in this article and my other articles must be implemented.
No matter where you are in your career at the moment, if you implement these principles and live by them every day then the more influence you will have. With more influence, you will have more options and you will also be offered higher, and better positions as you move through your career.
Every team member has the potential to influence. When you have influence, you have leadership. Each person in the team can be a leader and make a massive difference in their own lives and the lives of the team and surrounding teams. Even make a huge difference to the organisation.
To increase your leadership, you need to increase your influence. That is all there is to it.
Where you work there are probably a good few teams, and you can have an influence and make an impact on all of them. Even if you don't think you can.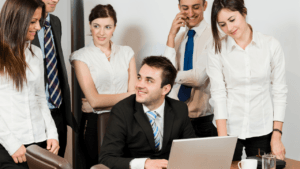 The team that you are on within your department or the particular job you are working on is not where it ends. You support a number of other teams outside of your department or even your organisation. You support other teams within your industry. They support you and your team too.
4. What Impact Do You Want To Make?
It is up to you to decide whether you want to go beyond your team and into the wider organisation or industry and make an impact. If you do, then that sends the right message to the leaders who are already making an impact. They will see you as one of them.
Making an impact beyond your own team will not only increase your influence, it will also increase your contribution as a member of your industry.
Making the decision to want to accept more responsibility, volunteer for extra, be noticed by leaders inside and outside your organisation will definitely improve the impact you are already making. Other people will start to notice you and want to know who you are, and what you are doing.
By doing this, you are demonstrating to more and more people that you are a great worker and also a leader with lots of potential. You will gain respect from highly influential people and your name will be known throughout your organisation and beyond, which can be very beneficial for you later on in your career.
If you make the decision not to go beyond your team and you don't want to make a bigger impact, then you risk not reaching your potential and not creating the great life that you deserve. A lot of people just go to work and go home each week and wait for the highlight of the month…..when they get paid.
If you go out of your way to deliberately not make an impact or try your best to not be noticed, then guess what? You WILL be noticed, but for the wrong reasons.
I have a lot of experience of working with people who live like this. They do everything they can to disrupt the team and the job. The more they do this then the less influence they have. They get more frustrated each day, and they are the people who create the blame cultures within the organisation. It is all a decision at the end of the day.
When you make your decision, just realise that the decision you make eventually makes you and your reputation.
Add value to your team, and you will become more valuable to the team
I welcome hearing how this post has influenced the way you think, the way you lead, or the results you have achieved because of what you've learned in it. Please feel free to share your thoughts with me by commenting below.
Check out my other articles by Clicking HERE
All the best,