A highly effective leader will never lose control of their emotions, beliefs, purpose, decisions, or their direction. If they fail at something, they take full responsibility and learn from it.
To keep moving forward, and to consistently help to move your team forward, we must "have inspiration". Inspiration means that we are driving ourselves, we don't need anyone else to motivate us. It is internal. Motivation is when other people within our teams, our boss, or someone else that is driving us.
It is external. When we need to be motivated, we are not inspired from within. An inspired leader still likes their boss to talk to them in a motivating way, but it is not essential. An inspired leader is going to move themselves, the team and the organisation forward. They don't need any external motivation from anyone else.
A good example of this is you.
1. How We Inspire Ourselves
Are you reading this article because somebody motivated you to? Or, are you reading this article because you were inspired from within to improve your leadership and teamwork skills?
If a person you know sent this article to you, they may be helping you through my other articles. Or, they may have asked you to read it because it will help you. Either way, what the person is doing is trying to motivate you. If they motivated you to start reading this article, then hopefully from what you are reading, you are inspiring yourself.
However, if you didn't require anybody else to motivate you to read this article, then you have inspired yourself from within. You know in your heart that you need, and want to become a better leader. There is a burning desire within you to improve, and as you work on improving yourself, you will also be helping others to improve too.
You will be inspiring others within your team to follow you. It will be motivation to the rest of the team because you are external to them, but the internal desire will burn within them and will become inspiration.
Are you feeling inspired from within, or are you feeling motivated by someone else? How would you know which one it is? If this article is interesting to you, and you want to continue reading, then you are inspiring yourself from within. You don't require anybody else to motivate you to continue reading.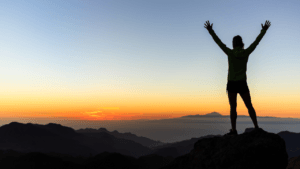 However, if the reason you continue to read is because someone else is asking you to, then you are being motivated externally. That is the difference between motivation and inspiration.
If we do something of our own accord and don't need other people, we are inspired. If we do something because someone else is asking/telling us to do it, then we are being motivated.
2. Becoming A Highly Effective Leader
We are working on becoming a highly effective leader, but what does that actually mean? What is it we really want from being a highly effective leader?
In my experience, we want to improve at our job, we want to be a better teammate, we want to have better teammates, and ultimately we want to become an all-round better person. To be able to become all of these, we need to understand our potential and then letting it go from within us.
Now, let's understand that the reason we want to become a highly effective leader is not for more money. That is not our inspiration or motivation. We want to become a highly effective leader so we can help others, but also be happy and fulfilled within ourselves. We want to feel great about ourselves that we are making a difference.
However, the benefits and rewards from becoming a highly effective leader will mean more money, more opportunities, and promotions. A highly effective leader is here to change things, and we do so because we are inspired, focussed, disciplined, flexible, and positive.
3. Don't Be A Low Performing Leader
A low performing leader has the opposite focus. They are externally motivated by money, and all they really concentrate on is making more of it. I've heard it many times in the places that I've worked, "I've been asked to work later, but I'm not getting more pay. I'm being used and abused."
A low performing leader has a very negative attitude towards going the extra mile for the team. They generally do want to make improvements, but they only want that so they can earn more money.
They don't really care about feeling great about themselves, helping their teammates to improve, or being inspired from within. A low performing leader wants the rewards and benefits of more money, nothing else.
A highly effective leader does not want average leaders. They want to have a team fully of highly effective leaders. There is nothing average about a highly effective leader. They are in high demand all over the world, and highly effective leaders are always searching for them. A highly effective leader is excellent not average.
When we are thinking about becoming a highly effective leader, and wanting to move from average to excellent, we must ensure we are thinking about the right things. It's very important that we must do the things that a highly effective leader does, not want what a highly effective leader has.
Wanting what other people have will not get you what they have. We need to think about what they had to do to get what you want. Wanting what a highly effective leader has is a path towards becoming a low performing leader.
A low performing leader resents a highly effective leader because of what they have, but they don't think about what they had to do to get it. If the low performing leader did what the highly effective leader did, then we would have a lot more highly effective leaders.
So, make sure you think of the right things, and do what a highly effective leader does. Watch out for low performing leaders trying to drag you down to their level and change your thinking.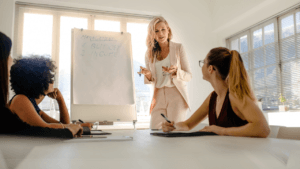 4. The Attitude Of A Low Performing Leader
When I was in my third year as an apprentice mechanical engineer in 2002, there were a lot of low performing leaders around the plant. Most of them tried to bring me and the other apprentices down to their level while we were still new and inexperienced.
On one shift, I was working on one of the Jaguar engine assembly lines, and our part of the line was to build the lift arms that would hold the engine block in place to be cut into shape. I loved this job, so I would always get in early for my shift to prepare better.
This didn't go down well with the other members of my team. One of them, Geoff, actually pulled me up over it. His words were, "When you come in early Tom, you're making the rest of the team look bad." I said, "How is that Geoff?" It was like something from the school playground.
He replied, "Well, as you know, we are all being watched closely because of fall in profit, and if you keep coming in early and looking better than the rest of us, it is going to show us in a bad light to the management." I was baffled by this.
The last thing I wanted to do was to make everyone look bad, especially when the company was low in profit, and we were being watched closely.
That is exactly the attitude of a low performing leader. They look at others to blame for the reasons that they are not happy or earning the money that they desire. I knew I wasn't making anybody look bad.
There is only one person who can make yourself look bad, and that is you. What they should have done was, come in early like me, prepare and then the whole team would have looked good.
How do you feel when you go to work? How do your teammates feel? How does your leader feel? That is the most important thing when we are in the workplace, not what we do, but how we feel. That is what culture is.
I welcome hearing how this post has influenced the way you think, the way you lead, or the results you have achieved because of what you've learned in it. Please feel free to share your thoughts with me by commenting below.
Check out my other articles by Clicking HERE
All the best,