The best leaders give away their power. The insecure leaders keep their power to themselves.
What does empower mean? It's quite simple, it means giving another person your power. A highly effective leader empowers their team by asking them questions. They do this so that they think deeper, and come to a solution to a problem on their own. Questions are the beginning of empowerment.
With an insecure leader, they will only ask their team questions to gain just the right amount of information. They do this, so that they can solely make a decision and tell the team what to do. They will not go beyond that and ask questions of their team to empower them to think deeper, and help the insecure leader come to a decision.
The reason insecure leaders want to make the decisions on their own, and don't empower their team by asking questions, is so that they can be seen to have all the answers. They are so insecure, that they think if their boss finds out that they don't have all the answers, then they are going to be in trouble or get fired.
They don't ask their team lots of questions because they can't lead a team discussion or debate. They don't ask their team lots of questions because they don't want a team member taking any credit for an idea, or solution. They don't ask their team lots of questions, because they don't want the team having any kind of influence.
A highly effective leader does not want to make all the decisions, they want the decision making to be a collective team effort. By doing this they are growing and developing themselves, and each team member at the same time.
They understand that asking their team questions is a very effective and skilled way of growing the team. Especially thought provoking and open ended questions.
1. Why Do Highly Effective Leaders Ask Their Teams Questions?
To develop the best solution possible. When the leader asks questions it creates an environment of openness, and allows the team to share what's on their mind. When working in this type of environment, people think and work at their best.
This is when they develop their best solutions to problems. It is a mastermind group of many, rather than just one insecure leader doing minimal thinking.
To let them know that they matter. It lets the team know that their leader values what they say, and that they appreciate their opinion. It demonstrates respect to each team member, and helps to build trust with them. As a role model, the leader is modelling that teamwork is better than one individual.
To allow the team to take ownership. When the leader asks the team questions, they are allowing the team to be involved in finding solutions. It gives them a voice to share their thoughts, and then take ownership for the ideas, and solutions. It helps the leader and the team to make decisions together.
 To share the responsibility with the team. When the leader asks questions they are sharing the responsibility with the team, and they are engaging them in the process. It breaks down the barriers with the team, and gets them involved by sharing their opinions.
It breaks the barrier for the team members who previously would have kept their ideas, and opinions to themselves. It allows the team to take the action instead of being told what to do.
So the leader can learn how the team thinks. When the leader asks questions of each team member individually, they are learning how each person thinks.
By having this knowledge, they leader will know which team members are ready right now to be a leader. He/she will also know which team members need more development.
To empower the team with influence. It shows the team that the leader understands them, and this will create more buy-in from the team.
With more buy-in and understanding of the team, they are more likely to support the leader on the direction he/she sets for the future. By asking the team questions, the leader is allowing the team to influence him/her.
To raise any concerns the team have. When the leader asks questions it allows the team members to raise any concerns they may have.
This is another barrier breakdown for the team members who previously wouldn't have the courage to raise their concerns. This will then allow the leader to work on those concerns for the good of the team.
2. A Collective Team Effort
When you are in the team or group environment, and the team develop solutions to problems then always give credit to the whole team. Don't do as an insecure leader would and praise just one person (usually their favourite or friend).
A "mastermind group" is a group of many minds coming into one mind, so the whole group deserve equal praise. By asking many questions of the team, you can set direction to the team as you help them to grow and develop.
The direction should always start with teamwork. When you have teamwork, it is a lot easier to navigate the direction you are setting.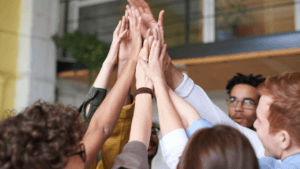 When you ask your team questions, you are growing and developing with them. The more questions you ask, the better you become at it. You will start to feel that the thought provoking and open questions you ask will improve.
The more questions you ask, the deeper the team will think. With deeper thinking, the team's answers, ideas and solutions will improve too. A good answer shows that a person is clever. A great question shows that a person is wise.
To get a great answer, you must first ask a great question.
3. Listening To Your Team
Now that you have asked the great question, what must you do next? Listen. When you listen to your team member's answer, you must dig deeper. The only way for you to do that is to actively listen, and then ask a follow up question.
The more you do this, you will continue this deep thinking with your team. This allows the team to come to either a better or totally different answer, or better solution. The follow up questions are the ones where you will get the best answers and solutions.
As we have discussed before, to get great answers, you must first ask a great question. If you are not getting good or great answers, it is because you are not asking your team great questions.
Try to avoid asking your team closed questions, where they can just give you an answer of yes or no. Instead ask open questions that encourage them to think. An open question starts with How? What? Why? Where? When? Etc.
4. Making Your Team Think
When you are a highly effective leader, you will develop a technique to answer your team's questions with a question. This will encourage the team to come to an answer themselves. An insecure leader would just give them a straight answer, and tell them what to do next.
A highly effective leader is developing their team by answering questions with questions. It is a leader's responsibility to grow their team. When the team are just given an answer, they are not growing, and they are still exactly where they are.
If you answer questions with questions, you are making them think. So be deliberate with it, and try your best not to give the team the answers. Make them think!
If you want to know who you really are and where you are going, ask great questions.
I welcome hearing how this post has influenced the way you think, the way you lead, or the results you have achieved because of what you've learned in it. Please feel free to share your thoughts with me by commenting below.
Check out my other articles by Clicking HERE
All the best,