To manage people you need to motivate them by telling them to do what is expected. To lead people you need to inspire them to do more than what is expected.
To go beyond your position of manager, you need to understand the difference between management and leadership. When managing the team, you are ultimately telling people what to do, when most of the time they are things that they don't want to do.
When leading the team, you are inspiring them to do things that they never thought they could do. Will you decide to manage or lead your team?
In my experience, most if not all of the managers I have worked alongside, and who have been my line manager have only ever managed us. They have never led us. This is very common in most industries throughout the world.
1. Leading Instead of Managing
As a matter of fact, even the managers are managed too. They are not led either. So, how can they be expected to lead if their own superior is not leading them?
It seems to me that the objective for the managers is to get through the day without too many issues. It is not to inspire the team. That is a sad situation throughout the world, and WE NEED TO CHANGE IT.
This article is to be used as a tool to help you to constantly be improving your leadership skills. Over the last 20 years of working in the engineering industry, I have learned, experienced and practiced leadership, I did this when working in Liverpool, Scotland and London.
So, I have lots of leadership insights and skills to share with you to help you improve. What I need from you is a commitment that what you learn will be applied and put into practice with your team.
Absorb what you read on each page, make a note of the aspects that you feel you need to learn more about. The more you do this, the more you will help yourself to grow into a highly effective leader.
Leadership development and personal growth is a journey, it is not something that can be learned in one day or over a week. It is a lifelong learning process, and the quicker you realise that the better it will be.
To be a highly effective leader, I am telling you now that it has everything to do with developing yourself. It does not have a lot to do with your boss, or your company investing in you to develop. So, set the direction for your leadership journey and follow it.
During my career I attended some "management skills" courses and also "leadership development" courses. However, they were nowhere near as in depth as they needed to be. The courses lasted 2-3 days at the most, and always appeared to be rushed.
2. A Leader's Role
But, most of all, they never taught me how to lead people. They also didn't teach me what a leader's fundamental role is; to serve their people. When I took up my first leadership position, I wanted to lead people not manage them.
So, it has taken many years for me to discover how to do that by working on and developing my own leadership style. That is what I am sharing in this article. It will be an absolute privilege for me to help you to do the same.
I want you to have the tools that will help you discover your own leadership skillset and style.
Is your current boss a highly effective leader? Does he/she support you as you are developing as a manager? If the answer is yes, then that is a great thing. They can continue to help and support you as you set the direction for your personal growth, and your leadership journey.
As your leader is supporting you, they too are developing as a leader. They are also growing as a person.
Before we go any further I would like to congratulate you for achieving the position of manager or supervisor. As you have been given this position, it should tell you that someone believes in you, and believes that you have the potential to become a highly effective leader.
However, if this is your first leadership position then you are currently at the bottom of the leadership ladder, not the top. In my experience, I have seen many people be promoted to manager or supervisor because they were a really good member of the team.
But, they didn't receive any leadership training. Being a leader and being an engineer requires completely different skills and mindset.
3. Going Beyond Your Position
Just having the position of manager has more to do with managing processes and things to do with the job. Just having the position of manager doesn't have a lot to do with leading a team of people.
If you manage people when you are in a leadership position, then what you are doing is motivating the team to do what the job expects. It takes someone or something else to motivate a person, so it is an external thing.
When managing a person, it usually turns into micro-management as you are constantly on the person's back telling them what to do next.
When leading a team of people it requires you to inspire the team to go the extra mile and do more than the job expects. If you can do that then the team will do this because they want to not because they have to.
Leadership doesn't require you to be on the person's back and micro-managing them. They are inspired internally.
So, now that you have your position of manager and you have your foot on the bottom of the leadership ladder, how are you going to take the next step up the ladder?
Well, before you start working on leading your people and climbing the ladder, you MUST manage the processes, and things that you are responsible for within your area first. You have the skills, knowledge and the ability to manage, and it is something that you MUST do.
You must master the position of manager. If you cannot do this then somebody else will, and you will be removed from the position. This is not what you want to happen, so please do take this on board.
Please be aware that as you manage the processes and things within your area of responsibility, and master the position of manager, you have yet to take your first step up the leadership ladder. To become a highly effective leader, it has very little to do with having the skills, knowledge and ability to manage.
4. Climbing Up The Leadership Ladder
It has EVERYTHING to do with people and building relationships. Climbing that leadership ladder is more about who you are, not what you know.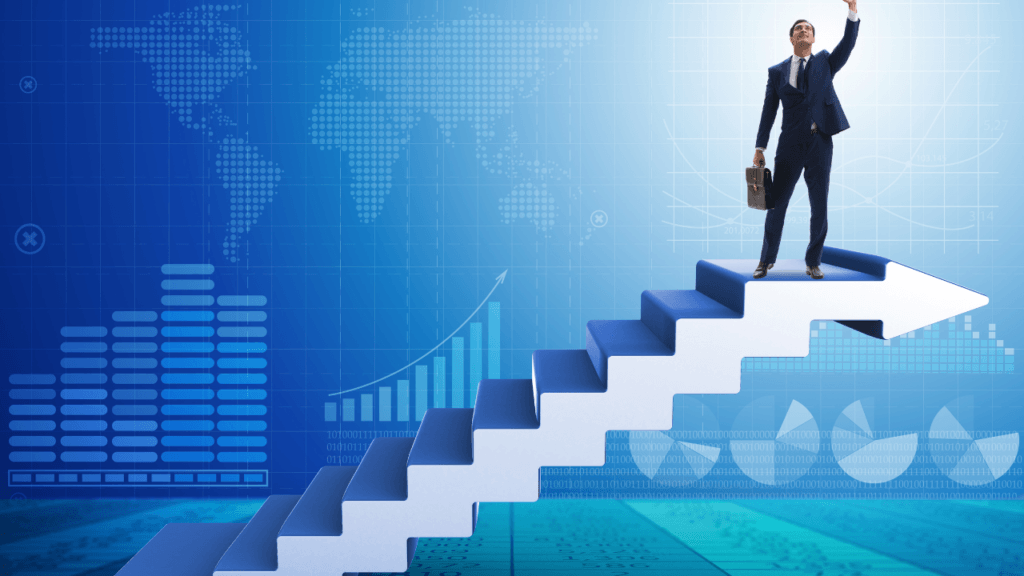 When building relationships with your people, it requires a foundation of trust from both you and your team. When you start to build trust, your influence will increase with your team, and you will begin to grow. You will begin to grow beyond your position.
Your job title will still be manager, but your people will look at you as their leader. As you increase your influence more and more, the results of your team will increase too. It is all about making a difference, and the more of a difference you make, the more people will start to notice you as a leader.
Productivity will improve, the team will enjoy being around each other, and enjoy working with you. The organisation will start to notice the morale of your team increasing, and ultimately teamwork will be very high.
When yours and your team's results are constantly improving, that is when you know you are climbing up the leadership ladder to higher levels. You may even reach the top of the ladder. This is when you will become a great leader.
However, being at the top of the leadership ladder doesn't necessarily mean you will be a highly effective leader just yet. Why not? You might ask.
To be a highly effective leader, as soon as you reach the top of the leadership ladder, you must climb all the way back down. Then when you reach the bottom, you must help another person to climb the leadership ladder and get to the top.
That is exactly what I am doing by helping you through this article. You will have success as a great leader by reaching the top of the ladder. But, when you help others to climb the ladder too, that will make you worthy of your success.
So, keep in mind that when you reach the top of the leadership ladder, climb all the way back down to help other people follow in your footsteps. If you can do that, then you will become a highly effective leader.
It is now my task to help you take your steps up the leadership ladder, and on your journey of personal growth. When we reach the top of the ladder together, it will be your job to climb back down.
Then it will be my job to share how you can help others to climb up and follow you. LET's TAKE THAT FIRST STEP.
Leaders need followers, who do you follow?
I welcome hearing how this post has influenced the way you think, the way you lead, or the results you have achieved because of what you've learned in it. Please feel free to share your thoughts with me by commenting below.
Check out my other articles by Clicking HERE
All the best,